Sandstorm engulfs a sixth of nation as flights affected, health warning issued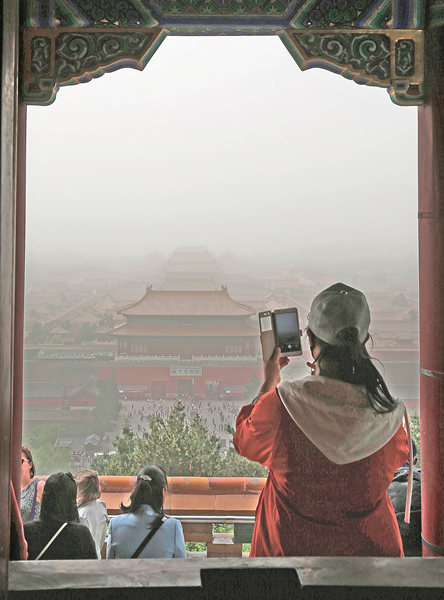 A visitor takes a photo of the Forbidden City through the haze of a sandstorm.
While the sandstorm had widespread effects, it only reached the second of five levels used to measure dusty and sandy weather. It was classified as "severely dusty/sandy", a category where visibility is lowered to between 1 and 10 kilometers.
In Beijing, visibility was limited to about 1 to 2 kilometers on Thursday, but it is expected to improve somewhat to 5 km on Friday, and "the sandy weather is forecast to end on Friday night", said Ma Xiaohui, chief forecaster at the Beijing Meteorological Center, on Thursday.
But in areas like the Xinjiang Uygur and Inner Mongolia autonomous regions, and Gansu and Shaanxi provinces, the sandstorm was expected to last until Saturday, said Zhang.
"In some regions of Inner Mongolia, the 'super strong sandstorm' has lowered visibility to 300 meters, with PM10 readings exceeding 2,000 on Thursday," said Zhang, adding that in part of the Inner Mongolia autonomous region, the super strong sandstorm is forecast to linger for two days.
This year, the vast northern region has been hit by dusty and sandy weather seven times, which is below the annual average of 8.4 times in that period over the past decade, according to the center.
"The expanded vegetation cover rate in deserts and other sand-source regions in China from planting trees helped reduce the number of sandstorms," Zhang said. "Also, global climate change has slowed the wind in recent years, which is another major reason."
But this week, the sand and dust has been carried aloft by upper air currents, 5,000 meters high, so vegetation cover had little effect, he said.