Sandstorm engulfs a sixth of nation as flights affected, health warning issued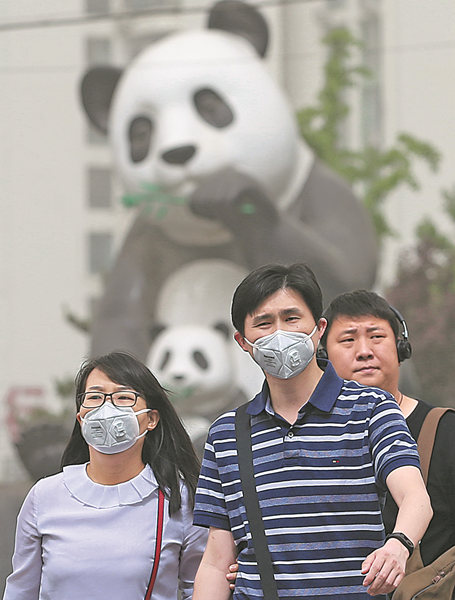 Many people in the Wangjing area of Beijing don masks on Thursday, following health officials' recommendations.
A sandstorm that engulfed one-sixth of China, including Beijing, turned the sky hazy on Thursday as particulate matter readings soared.
It was the nation's strongest sandstorm this year, and in Beijing, it was the strongest in two years.
As of 8 pm on Thursday, 62 outbound flights and 94 inbound flights at Beijing Capital International Airport had been canceled or delayed, airport officials said.
Traffic authorities in affected cities issued warnings about low visibility on the road, but most major highways appeared to remain open through the day.
The health authority cautioned about eye discomfort and respiratory and cardiovascular risks, and it recommended that people protect themselves, for example with face masks.
Beijing is expected to see relief on Friday night, though the sweeping sandstorm will continue to affect other areas until Saturday, according to the National Meteorological Center.
Large amounts of dust and sand blowing in on strong winds from Mongolia and the Inner Mongolia autonomous region have swept large areas in the northwest and north since Wednesday, driving air pollution indexes to hazardous levels and lowering visibility, said Zhang Bihui, a senior meteorologist at the weather authority.
The sandstorm pushed air quality indexes in many cities to the maximum reading of 500, including in Beijing. The concentration of PM10 particulate matter had soared to 1,000 micrograms per cubic meter at many monitoring stations in the capital as of 6 pm on Thursday, according to the municipal environmental monitoring center.
PM10 had not reached 1,000 in the capital for two years, since April 15, 2015.