Agri-trade deficit, grain output to drop
China's grain output is expected to decline by 1 percent this year, and its agricultural trade deficit will decrease to about $35 billion, according to a new book compiled by a government think tank.
This year's grain output will drop to about 610 million metric tons, considering the national adjustments in plantation structure, according to the Green Book of Rural Area (2016-17), released on Friday by the Chinese Academy of Social Sciences' Rural Development Institute.
Last year, the grain output fell by 0.8 percent to 616.2 million tons, the first decline since 2004. However, 2016 was still a good harvest year, with the second-highest output on record. Before 2016, grain yields increased for 12 consecutive years, from 469.5 million tons in 2004 to 621.4 million tons in 2015.
On the supply side, China's grain stock will remain high for a while, so the country will further reduce about 6,650 hectares of cornfields this year.
Li Guoxiang, a researcher at the Rural Development Institute of CASS and one of the main authors of the report, said the output reduction will not deplete food supplies in the short term.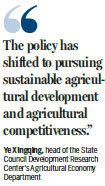 Given the steady bumper harvests of the past 12 years, grain stocks are high and need to be downsized, thus the reduction policy, Li said.
Ye Xingqing, head of the Agricultural Economy Department of the Development Research Center of the State Council, said 2014 was a watershed year in China's food policy.
"Before 2014, the food policy mainly focused on increasing production," Ye said. "But since 2014, the policy has shifted to pursuing sustainable agricultural development and agricultural competitiveness by increasing transfer payment and fiscal support."
In the long term, such a policy shift will benefit farmers, analysts say.
"Grain output reduction may hold back increases in farmers' income, given the reduction in fields sown in the short run," Li said. "But in the long run, the policy change will benefit farmers" because China will increase transfer payment funds to the countryside and put more fiscal resources in its poverty-reduction campaign, both of which will raise farmers' incomes.
China's imports of agricultural goods declined by 4.5 percent to $111.6 billion in 2016, according to official statistics, and its annual trade deficit declined by 16.5 percent to $38.6 billion. That year, the country was 84.2 percent self-sufficient with grain, 6 percentage points higher than in 2015.
Since the high pressure to reduce agricultural output will directly influence the scale of grain imports, Li suggested that China's agricultural trade deficit will continue to fall this year.