Tobacco's many ills growing too costly
Smoking-related diseases are on track to claim more than 200 million lives in China this century, a World Health Organization/United Nations Development Programme joint report warns. Most of these deaths will occur in China's poorest and most vulnerable communities unless critical steps are taken to reduce the country's dependency on tobacco.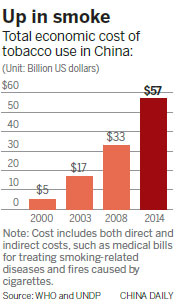 The report, "The Bill China Cannot Afford: Health, Economic and Social Costs of China's Tobacco Epidemic", was issued on Friday. It explores the consequences China's tobacco use on its development.
The rapidly increasing costs associated with tobacco use in China are unsustainable, the report said, citing an estimated total cost in 2014 of $57 billion, more than 10 times what it was in 2000.
The expenses are both direct, such as medical bills from smoking-related diseases, and indirect, such as costs incurred from accidents, like fires, caused by smoking.
The report demonstrates tobacco control saves lives and is a developmental issue as well, Bernhard Schwartlander, WHO China Representative, said at its presentation.
China has constantly worked to curb public smoking in particular, for example by making local laws and regulations that ban smoking in indoor public places and raising the tobacco tax, said Wu Yiqun, deputy director of ThinkTank, an NGO committed to tobacco control.
Additional and more progressive policies are needed, Schwartlander said. Otherwise "the consequences could be devastating, not just for the health of people across the country, but also for China's economy as a whole", he said.
China is the world's largest tobacco producer and consumer - about 44 percent of the world's cigarettes are smoked here - according to the National Helath and Family Planning Commission. More than 1 million people die in China each year from tobacco-related diseases.
The highest smoking rates are among blue-collar workers, and rates are higher in rural than in urban areas, the report said.
Smoking has a greater effect on the poor, said Nicholas Rosellini, UNDP Resident Representative in China.
"It causes impoverishment and entrenches social inequality," he said.
Low-income families can scarcely afford the high medical expenses of treating smoking-related diseases like lung cancer, the report said. It cited a recent Chinese study that found 9.2 percent of the rural Chinese households were driven into poverty by medical bills.