Man in his 70s spends five years copying ancient Chinese classics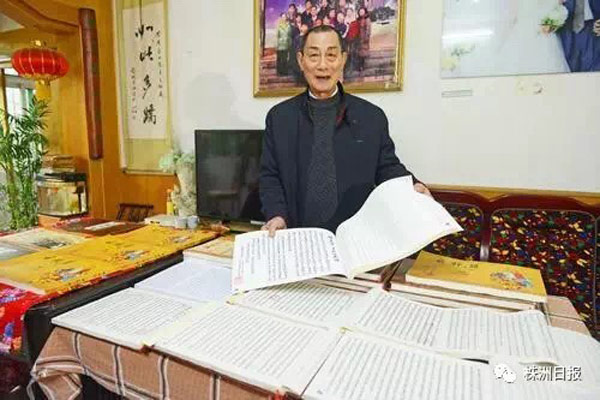 Peng Genfu showcases the copied masterpieces at his home in Zhuzhou city, Central China's Hunan province. [Photo from WeChat account of Zhuzhou Daily]
A retired teacher, aged in his 70s, has spent the past five years copying four great classic novels, including Journey to the West, Romance of the Three Kingdoms, A dream of the Red Mansion and Water Margin.
As Zhuzhou Daily reported on Wednesday, Peng Genfu decided to regularly practice calligraphy after retiring from working as a teacher at the Hunan University of Technology in Zhuzhou city, at Central China's Hunan province.
"There is much flexibility after retirement," Peng said.
"I have been fond of calligraphy for many years, ever since I was a child, and hoped to do an intensive reading study of the four masterpieces by copying them," Peng said.
Upon finishing the classics at the beginning of 2017, Peng had his version stacked as high as half a meter on a table at his house.
The manuscripts boast of having more than four million characters – the equivalent of 25 books.
During the first novel, A Dream of the Red Mansion, Peng could only write a few hundred characters at a time and moved up to copying 3,000 characters, at a time, on his second novel, Romance of the Three Kingdoms. Peng then went on to copy the two remaining novels, Journey to the West and Water Margin, in traditional Chinese characters.
To complete the tasks, Peng used more than 30 Chinese brushes and said he overcame the feeling of "giving up" many a time.
"I used to think of giving up the work, however, I encouraged myself to carry on with it," he said.
"I hope perseverance can inspire and encourage young people and future generations," said Peng.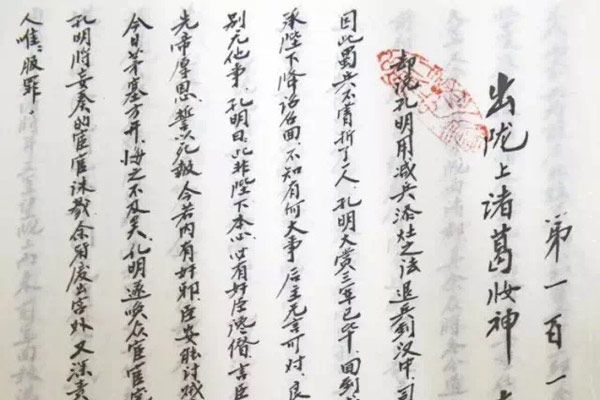 A page of Romance of the Three Kingdoms copied by Peng Genfu. [Photo from WeChat account of Zhuzhou Daily]