Foreign professor from Wenzhou-Kean University helps tackle water issues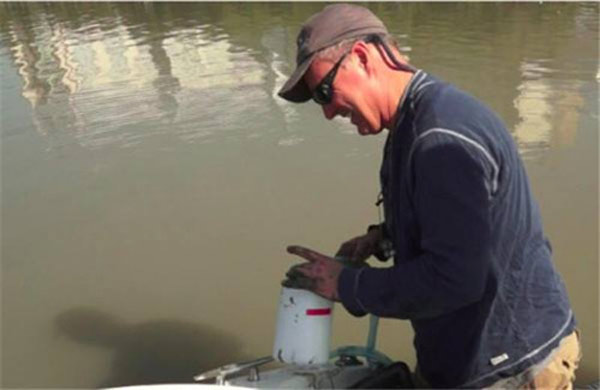 Michelena takes water samples from the Wenruitang River in Wenzhou, Zhejiang province. [Photo/Wenzhou Evening News]
Toby Michelena, a professor from Wenzhou-Kean University, is always taking some of his students to the Wenruitang River in the city of Wenzhou, Zhejiang province to gather water samples at weekends.
In December last year, Michelena and his students launched a one-year project to study the Wenruitang River and its fauna for the purpose of restoring the river's ecosystem.
"We are now researching an 18-kilometer section of the river which runs across the core region of Wenzhou and many agricultural areas," Michelena said proudly. He added that he feels real satisfaction in protecting the river and helping it become cleaner.
Michelena used to practice environmental protection in Washington and he has long been interested in water pollution. Therefore, after arriving in Wenzhou, he started to keep an eye on the water quality of the Wenruitang River, a significant waterway in Wenzhou.
Michelena hopes that he and his team will be able to use their knowledge to analyze the source of the river's pollution and set specific goals and plans to make it cleaner.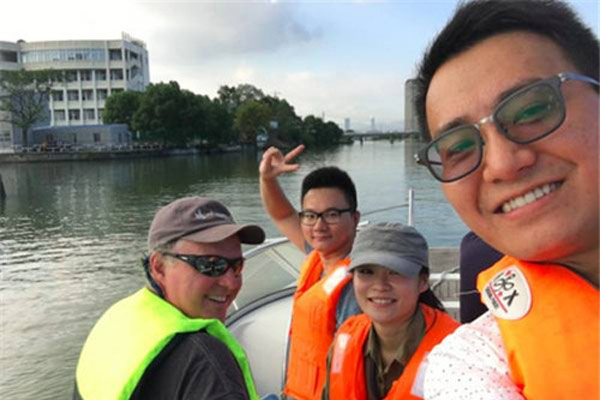 Michelena poses for a group photo with his students while taking samples from the Wenruitang river. [Photo/WeChat account of Ouhai Fabu]