University professor provokes, challenges students to face death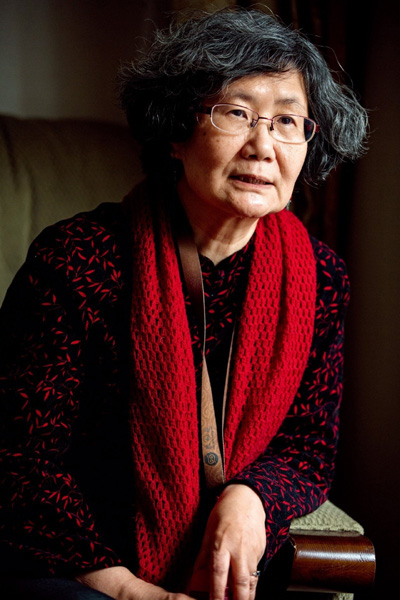 Lu Xiaoya, wearing a red scarf, is interviewed in Beijing. [Photo/Portrait(Renwu) magazine]
A series of numbers flash green on a man's arm. Twenty-three hours 48 minutes 41 seconds is all the time he has. When the countdown reaches zero, he will be dead.
It was the early spring of 2013. The optional course "Life and Death Studies in Films" was being taught in Beijing Normal University. On the first day, the class was shown the first 17 minutes of the film In Time and the last shot that the students saw was that the numbers had stopped flashing, Portrait,a Chinese magazine reported.
There was pin-drop silence in the class. Students were told to hear their own hearts beat.
Yuan Yufei, a sophomore, had expected the course to tackle film theories as other courses do, but surprisingly found the course go straight to the point. She was forced to confront the topic of death right away, which made her excited.
Lu Xiaoya, 63, is the course lecturer. She knows how people avoid the topic of death.
For instance, she knows a family that hasn't celebrated Spring Festival for 20 years as one of the family members died during the festival. She said this unbearable pain could lead to depression.
She hopes the course can inspire students to discuss the taboo topic. Topics like life and death, palliative care, near-death experience, funeral customs are all part of her syllabus.
Lu wants to "free the discourse power of death from philosophers' chair and white tower of hospitals." The course has 12 lessons and is held once in a school year. Every film clip displayed in each lesson is carefully selected.
The first lesson displays a clip of film In Time, in which the countdown of time turns the finiteness of life into anxiety; the second lesson shows a clip of film School Days with a Pig, in which whether to eat a pig raised by the whole class for three years arouses a debate on death; the third lesson displays a clip of film Dead Poets Society, in which a student Neil kills himself as he is unable to stand up to his father. For it, Lu raised a question: "Is death the only choice when facing contradiction between dream and reality?" Sometimes, Lu asks students to speak for a role in the film.
Lu's goal is not to ease the anxiety of death but to moderately provoke that anxiety.
Some students were so shocked after the first class that they refused to come back for remaining classes. Therefore, Lu suggests that those students who have experienced the death of a near one in past two years not to select the course.
After two rounds, the course has gained high reputation in the university. It has become so popular that 35 seats were occupied in one second when the course selection system opened in the spring semester of 2016.
Lu believes in an equation developed by Irvin David Yalom, an American psychiatrist, that anxiety of death is inversely proportional to satisfaction of life. The anxiety of death lies deeply in people's sub consciousness. People constrain, replace or sublimate the anxiety to others by their psychological defense mechanism.
Film Ikiru, or To Live, depicts a Tokyo bureaucrat, Kanji Watanabe, who never asks for a one day leave during his 30 career. Lu's students evaluate his life as "nonsense".
Learning that he got gastric cancer, Watanabe is threatened by death and leads a different life. He spends years of deposit on luxury wine, gambles in casino, seeks romance in dance hall, hangs out with young woman and leads people to build a park, etc.
"There seems to be a crying behind these actions, 'I had not lived a good life, so I do not want to die'," said Lu.
"I want to tell my students that at the end of your life, if you want to die in peace, you have to make sure two things. First, make sure your life is meaningful; second, make sure you are valuable," said Lu, as earrings shone behind her grey hair. She has not dyed her hair since she turned 55 in order to "accept aging".
Death is the loneliest experience for human beings. She believes film narrative can help young people break reasonable, systematic and repetitive learning pattern and meet the real world spiritually.
Film Wit reveals the eight-month treatment of a cancer patient. The emancipated patient reminds Yuan Yufei of her grandmother who died six months ago. She went out of the classroom in advance and had a good cry.
For Bi Weile, she started to understand her father's proposal. He hoped the daughter could let him pass away early if he lost the ability of taking care of himself.
When a film clip comes to an end, Lu does not turn lights on or allow students to discuss, but asks students to "stay with their own". "You can cry. You can feel ashamed... These are very good observation on life," she tells her students.
Depending on students reactions, she may keep asking questions like, "What does your tears mean?", "Why are you crying?"
Lu changes her testament every birthday since her 60th birthday. She takes anxiety of death as a tool. "When I realize that people must face death, I start to consider how can I live better," she said.
This "tool" also works for her students. A student picked up paintbrush again, another started to learn drums. And there is a student who said that he pulled himself together to lead a new life.
Contrary to the mounting anxiety of death, the fear of death decreases.
After being taken to Wan'an cemetery by Lu as part of the course lesson, Bi Weile has got interested in exploring cemeteries. Bi said that facing tombs is like "having a conversation with a life". "They are not ghosts, but ancestors, who tell us stories of life," she said.
"Everyone who keeps a watchful eye on death, including myself, must has a reason of their own," Lu writes in her book "Life and Death Studies in Films", a title that is same as her course.
In the flyleaf of her book, she writes "Dedication, for dad". The editor suggested change "dad" to "father". "No," said Lu, laughing silently. "I like to go back to be a little girl. I want to keep a relationship between a little girl and a dad."
"I think it is a way to deal with my sadness," said Lu.
Lu's father died in summer of 1987. She misses him a lot. She still keeps her father's diary and writes to him like she is having a conversation with him. She also visits places her father once visited.
When Lu opened the course in 2012, she was 58 years old, an age close to that when her father died. She was wondering whether she would also die when she turned 60. So she resigned from an NGO founded by her, and spent more time to accompany her mother who suffered from dementia.
Lecturing the course is a way she fights against the fear of death. Every round of the course makes her feel more assured. Four years haves passed, her fear of death has eased.
On January 25th, she underwent an operation. This was the fifth operation she underwent since a lump was found in her breast when she was 32.
Lu joked that God may want her to know deeper about life and death, so He let her become a breast cancer patient.
Lying nakedly in a hospital bed, Lu waited to undergo the operation alone and wrote a poem.
      I lie on a bed outside the operation room,
      only see the ceiling,
      but naughty sight,
      have to pass through the white idleness,
      to reach Centaurus,
      and look at the rosy nebula...
Lu wears a red scarf presented by one of her university classmates who passed away. Every year, she chooses one day to wear it attend the class as a ceremony. She tells the story of her classmate and warns students "not take life for granted".
Story edited by Wu Yan