Unclaimed ashes jam funeral houses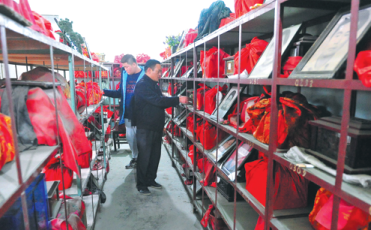 Workers from a funeral parlor of Fuyang, Anhui province, walk through aisles of unclaimed urns this month. [Photo by Wang Biao/China Daily]
Efforts to track owners of long-leftover urns result in 'very limited' outcome
In a hidden corner of Hefei Crematory is a dark, brick storeroom with roll-up garage doors. It rarely receives visitors, and when it does, it's usually only to drop off another urn of unclaimed ashes.
The one-story temporary building is packed with creaking shelving units holding 1,300 dusty boxes made of pottery or wood.
Each contains remains that have been stored at the crematory for more than 10 years, according to Wang Qiangsheng, a department head at the funeral and interment administration for Hefei, capital of Anhui province.
"Some have even been here for more than 50 years," Wang said ahead of Tomb Sweeping Day, which falls on Monday, when Chinese pay their respects to loved ones and ancestors by cleaning graves and burning paper money.
The crematory, which is next to the Anhui University campus in Shushan district, has a large hall used for memorial services that houses another 8,000 urns. Wang said that almost 2,000 of these have also sat unclaimed for a few years, in addition to the 1,300 long-lost ones in the temporary building.
The situation is common at cemeteries across China, where people traditionally bury ashes rather than scatter them, as is the practice in some Western countries.
A report this month by Shenyang Evening News estimated that the city of Shenyang in Liaoning province has up to 15,000 urns of unclaimed ashes in storage for more than a decade.
Some local governments have introduced rules to deal with the issue, such as Shanghai and Changchun, capital of Jilin province, which allow unclaimed remains to be interred at public cemeteries. However, Hefei has yet to devise a policy, according to Ding Qihe, director of the city's funeral and interment administration.
"It seems they're just forgotten," Ding said. "For decades, until the 1990s, residents rarely had telephones, so we could only record their address - and that's if we were provided with one."
As the city has developed rapidly over the past two decades, many communities have been demolished and the residents relocated, making it even harder to find the families of the deceased.
In 2013, the Hefei government launched an online database of unclaimed remains and made it accessible to the public in the hope of connecting families with deceased loved ones.
So far, the number of remains claimed via the service has been "very limited", Ding said. "For some boxes, we don't even know the name of the deceased," he said, adding that some may have been homeless people from other parts of the country.
Families may be put off contacting the crematory because of concerns over the financial costs, Ding said. "But the charges are low and there are exemptions. There's no charge for the first year, and then it's about 200 yuan ($29) a year thereafter."
In addition, if the family of the deceased agrees to bury the ashes in an "ecologically friendly way", such as under a tree or patch of grass in a cemetery, rather than having a space-consuming tomb, all charges will be waived, Ding added.
zhulixin@chinadaily.com.cn