China's underwater glider sets new world record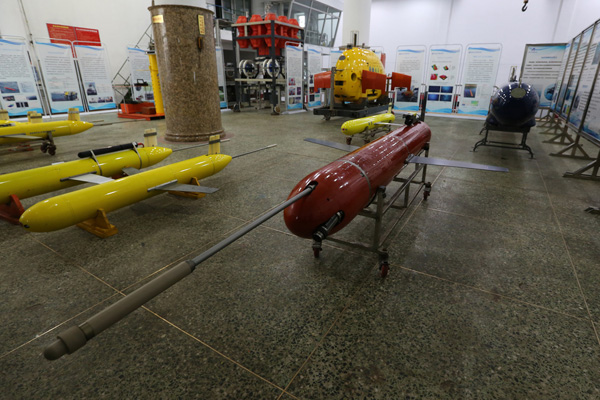 Series of Haiyi underwater gliders are on display at a workshop in Shenyang, capital of Northeast China's Liaoning province, on Dec 17, 2016. [Photo/VCG]
A domestically developed underwater glider set a new world record by reaching a depth of 6,329 meters, breaking the previous record of 6,003 meters held by a US vessel, according to the Chinese Academy of Sciences (CAS).
The underwater glider named Haiyi, which means sea wings in Chinese, went underwater aboard the deep-sea submersible mother ship Tansuo-1 during a mission in the Mariana Trench early this month.
Although oceans cover about 71 percent of the Earth, many parts, especially deep-sea areas, are still unexplored. By reaching 6,000 meters, Haiyi allows Chinese scientists to explore 97 percent of the maritime space.
Haiyi, developed by the Shenyang Institute of Automation under CAS, is used in monitoring vast areas of the deep-sea environment, such as sea water temperature, salinity, turbidity, chlorophyll and oxygen content.
During the recent mission, Haiyi, dived down 12 times and travelled about 130 kilometers, collecting high-resolution data for scientific research.
The underwater glider, which carries lots of detectors, has a simple cylindrical body, with two small wings making it look like a small plane, and a long tail – an antenna to send signals.
Different from other underwater robots, the glider does not have a propeller but uses different method to move in water. In its body, there is an oil bag that works like fish bladder, and a moveable battery.
The glider also has a special "coat" made of light carbon fiber material to protect it from the huge pressure in deep sea. When it glides down to 6,000 meters, the pressure could reach 60 MPa, which is similar to holding 60 ton weight on your palm.
In Oct 2014, Haiyi swam 1,022.5 kilometers nonstop in 30 days during a test, setting a record in China for the longest time and distance covered by an underwater glider.