Assessment to ensure river chief system on schedule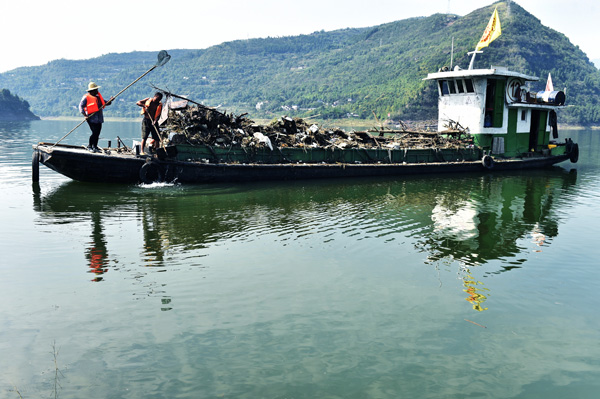 Workers remove floating objects from the Xiaojiang River, a tributary of the Yangtze River, in Chongqing in October. [Photo by Rao Guojun/For China Daily]
China will conduct a thorough assessment of 31 provincial regions by the end of next year to ensure the new "river chief" system is on schedule, the water resources authority said on Tuesday.
The central government introduced a system in December to appoint Party or government heads as river chiefs to clean up and protect water resources, with the system expected to cover the country by the end of next year.
"The development of the river chief system has gone smoothly and it may be implemented ahead of schedule," said Li Ying, head of the policy department at the Ministry of Water Resources.
So far, 22 provincial-level regions, including Beijing, Tianjin and Jiangsu province, have started to set up their systems and will complete them this year, with the other nine provincial regions scheduled to complete theirs by the end of June 2018, Li said.
Based on guidelines released in December, heads of provincial-level regions are responsible for all rivers and lakes in their regions, with top officials in cities, counties and townships responsible for their own rivers and lakes. For waterways that span more than one provincial region, the chiefs are encouraged to cooperate on the management of them.
River chiefs' responsibilities include protecting water resources, controlling pollution and restoring the ecology.
The ministry will conduct a thorough assessment by the end of next year to evaluate whether the provinces have set up their river chief systems, said Liu Weiping, head of the ministry's department in charge of construction and management of the system.
By the end of 2018, all provincial regions should have completed plans, set up independent offices, issued supplementary measures to support the system and conducted the assessment, Liu said.
"In addition, the ministries of water resources and environmental protection will jointly conduct a midterm assessment to drive local efforts by the end of this year," Liu added.
China first appointed local government officials as river chiefs in 2007 to address a blue algae outbreak on Taihu Lake in Jiangsu province.
"Now, every river and lake in the country will have their own chiefs," Liu said.
Zhang Bo, head of water quality management at the Ministry of Environmental Protection, said he has confidence the river chief system will help protect water resources.
Zhang added that it is not only the task of government and Party heads, saying that they should mobilize more resources from society to aid water pollution control.
Wednesday marks World Water Day and the start of China Water Week.