Caring for the older generation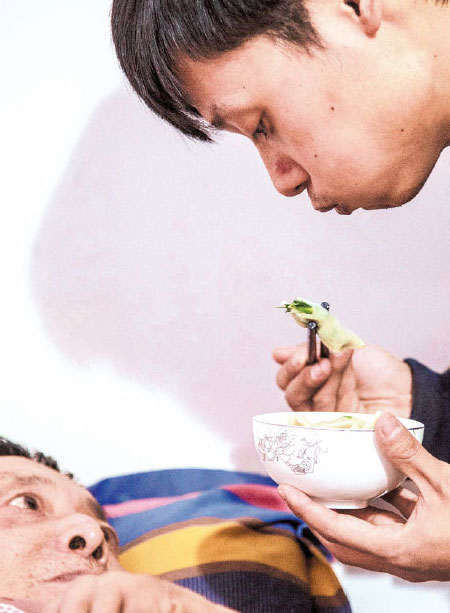 Qi Jianguang feeds his father Qi Wenjiang at the farmhouse he rented near the construction site where he works.Du Huaju / Xinhua
Son honored for looking after his partially paralyzed father
For many young Chinese living in the country's rural areas, the only way to find a well-paid job is to leave their hometown and move far away from their parents.
Qi Jianguang, 27, from a village in North China's Hebei province, is one of them. Since graduating from Shijiazhuang Tiedao University in 2014, he has worked in bridge construction for the State-owned China Railway Construction Corp that is based in Yingtan, Jiangxi province.
His job requires frequent relocation from one region to another and his first assignment meant he had to move to a construction site in Shandong province.
But Qi had to think about his 54-year-old father, Qi Wenjiang, who was partially paralyzed by a stroke in September 2015. "My father is just a farmer. He never attended school and raised me through his own hard work," he said.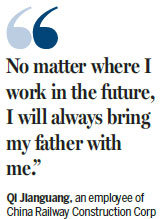 "He had to care for me on his own after my mom left us when I was 2 years old, so when I heard that he had been hospitalized I rushed home. I saw my father lying in his bed, unable to talk or take care of himself. I had two choices then: quit my job and stay at home to look after my father, or bring him with me to my work."
As he was unable to cover the cost of his father's treatment without a steady income, Qi chose to bring him to Shandong.
Every lunchtime, he returns to the farmhouse where they live to feed his father, give him his medicines and nurse him.
"My father cannot talk. I can only guess at what he wants from his eyes and his body language," he said.
"Sometimes, he loses his temper when there is a misunderstanding and on those occasions, I can't help but think that our roles are reversed - I must have been the same way when I was a baby."
His father's health began to deteriorate in 2007. In 2010, the older man was diagnosed with a cerebral infarction - tissue death resulting from a blockage or narrowing of the blood vessels supplying the brain - which would later cause his stroke.
So that he could care for him, Qi first brought his father with him to university. Ever since, he has done whatever he can to unburden the older man - even taking on multiple part-time jobs while studying to support his own education.
When the time came to move to Shandong, Qi was unsure whether he should bring his father with him or not, but he is glad now that he did. "The construction site is just like my home," he said. "My company has provided me assistance with looking after my father. Some of my colleagues visit my home to help take care of him. It really makes me feel like I belong."
For his sense of filial piety and tenacity in taking care of his father, Qi has been awarded the National May 1 Labor Medal, in recognition of his contribution to society. "No matter where I work in the future, I will always bring my father with me," he said.