Xi: Innovation is 'common focus'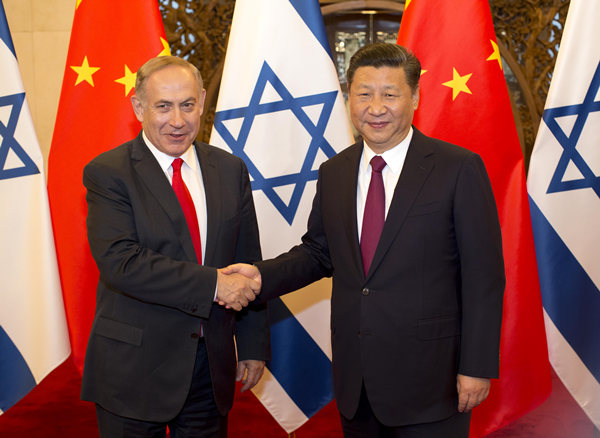 President Xi Jinping meets with Israeli Prime Minister Benjamin Netanyahu in Beijing on Tuesday. Feng Yongbin / China Daily
China and Israel will both benefit from cooperation, he tells Netanyahu
The establishment of a China-Israel comprehensive innovation partnership will bring more real benefits to the people of both countries, President Xi Jinping said on Tuesday while calling for enhanced cooperation in scientific innovation.
"Israel is a world-renowned innovative country, and at the same time, China is also pushing forward innovation-driven development, so innovation has become the common focus of our two countries. It is also the priority for our cooperation," Xi said while meeting with Israeli Prime Minister Benjamin Netanyahu at Diaoyutai State Guesthouse in Beijing. Netanyahu is making an official visit to China from Sunday to Wednesday.
Noting that this year marks the 25th anniversary of the establishment of China-Israel diplomatic relations, Xi said a comprehensive innovation partnership between the two countries will push forward such cooperation and make use of the two countries' complementary advantages.
The president called for enhancing political communication, strengthening cooperation at all levels and boosting mutual understanding and trust.
The two countries should connect their development strategies, steadily push forward cooperation on major projects under the framework of the Belt and Road Initiative, and focus on cooperation in such areas as scientific innovation, agriculture, medicine and clean energy, he said.
Netanyahu told Xi, "Your decision to announce a comprehensive innovation partnership between China and Israel is a tremendously important decision, certainly for Israel and, I believe through our cooperation, for China as well."
The Israeli prime minister said his country could be "a perfect partner for China in the development of a variety of technologies to change the way we live, how long we live, how healthy we live, the water we drink, the food, the milk we drink and every area".
Xi, noting that China has close links with the Middle East, said peace and stability in the region are in line with the common interests of all parties, including China and Israel.
The peaceful co-existence of Israel and Palestine can not only benefit the two parties as well as the whole region of Middle East, but also meet the expectations of the international community, Xi said.
Netanyahu said Israel will continue to support the one-China policy.
He also said Israel is willing to play a role in cooperation with China on infrastructure under the Belt and Road Initiative, which Xi proposed in 2013.
Israel would like China to play a bigger role in Middle East affairs, he added.
"We know that you have great scientists, great industries and great capabilities, and we think that by working together, we can make the future better, for both our peoples, but I also think for all of humanity," he added.
"We admire China's capabilities, its position on the world stage and its history," Netanyahu said.
China is Israel's largest trade partner in Asia and its third-largest overall.
The two countries embarked on their first round of negotiations on a trade pact in September.
More than 100 technology executives have joined Netanyahu on the visit, with meetings planned with Chinese business leaders, according to Reuters.
On Monday, China and Israel also signed a number of agreements for cooperation in the areas of economy, science and technology, commerce and civil aviation.