Chinese medical team bring home PNG souvenir with a difference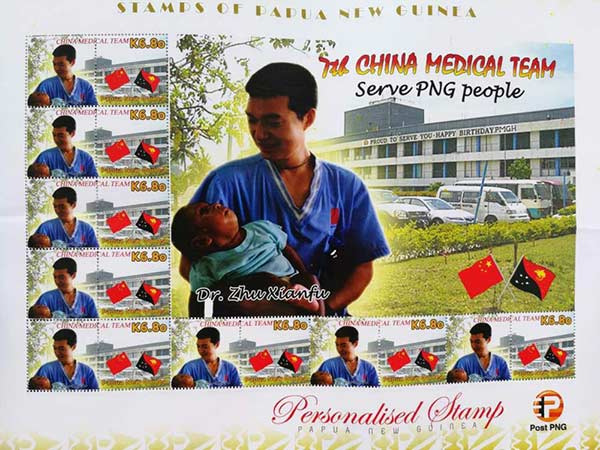 Personalized stamps record Chongqing doctors' two-year mission in Papua New Guinea. [Photo provided to chinadaily.com.cn]
When it was time for a group of Chongqing doctors to end their two-year mission in Papua New Guinea, they decided they didn't want just an ordinary souvenir.
They decided to make personalized stamps as a special momento of their time in the country.
To their surprise, the country's Secretary for Health Pascoe J. Kase also loved the idea.
Kase offered to write a thank-you note and took pictures with the Chinese team leader Zhang Jinsong, holding the large piece of paper saying "Thank you to the 7th Chinese Medical Team for your great services offered to PNG people. Best wishes for the future."
This picture also appeared on the set of souvenir stamps.
The team consisted of 10 doctors from several hospitals in Southwest China's Chongqing. They have conducted a medical aid project on the Pacific Ocean island since Jan 2015. They conducted an on-site clinic, surgeries, taught medical school students and sent medical equipment to local communities.
They are expected to finish the mission in April.
China started to dispatch overseas medical aid teams in 1963. Since then, more than 24,000 Chinese doctors have worked in 66 countries and regions in Asia, Africa, Latin America, Europe and Oceania and treated 270 million patients.