Knotty problems get thorough review
Editor's note: This is the fifth story in a series of previews on the two sessions-the annual gatherings of the nation's top legislature and its top body of political advisers. The sessions will start later this week.
While attending a consultation session on special education, Wang Kang, a national political adviser, gave a blunt comment about the situation for people with special needs, describing their plight as "another muddle".
"During research last year, I found that many local governments didn't have basic information on those who need special education, including the population, age group and their disabilities," said Wang, a member of the Chinese People's Political Consultative Conference National Committee.
"Many children who have special needs don't have registered residence, didn't receive medical treatment or were not enrolled in school."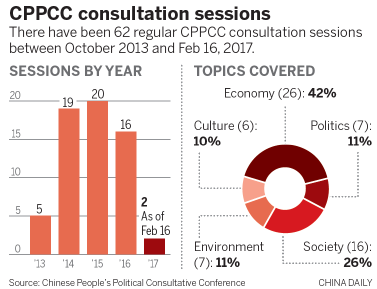 Wang shared his concerns with other political advisers, government officials and industry experts at a regular consultation session of the CPPCC in November. At the session, he also called for a scientific system to identify, evaluate and monitor those who need special education.
This issue as well as others-including the protection of ancient villages from excessive development, construction workers' rights and interests and law enforcement regulation of urban patrol officers-are among what have been described as long-standing, unsolved and knotty problems that have been topics at the CPPCC consultation sessions, which are often scheduled every couple of weeks.
As of Feb 16, 62 such sessions had been conducted since October 2013, with more than 2,233 national political advisers and 137 experts and scholars participating. Officials from related government departments have also been invited to attend sessions to hear suggestions.
Consultative democracy, which focuses on reaching consensus through consultation, has become a catchphrase since the 18th National Congress of the Communist Party of China in late 2012.
Liu Jiayi, vice-secretary-general of the CPPCC National Committee, said that holding consultative sessions is a huge innovation and a key step forward.
"In the past, there was a saying: Being a CPPCC National Committee member, you would have to attend a meeting once a year; for a member of its Standing Committee, you would have to attend meetings every quarter," he said. "But many thought that is not enough. To promote consultative democracy, we decided to have more regular consultation sessions."
A session, which is usually three hours long, is not like "sitting down and reading prepared materials", said Liu Weifang, a researcher at the Contemporary China Studies Institute of the Chinese Academy of Social Sciences. She said a consultative session is a small gathering on one topic each time, which allows all participants to fully express their opinions and have thorough discussions.
For example, basketball star Yao Ming, a CPPCC National Committee member, suggested loosening the hold on administrative examinations and approval of commercial and mass sports events, during a consultative session in April 2014. The suggestions were then included in a document released by the State Council in October 2014.
Zhang Changer, chairman of the Hubei Provincial CPPCC Committee, said that "our consultative democracy is sharply different from the Western system, where parties jostle each other to hold office in rotation. It is our strength."