Heading to college years too early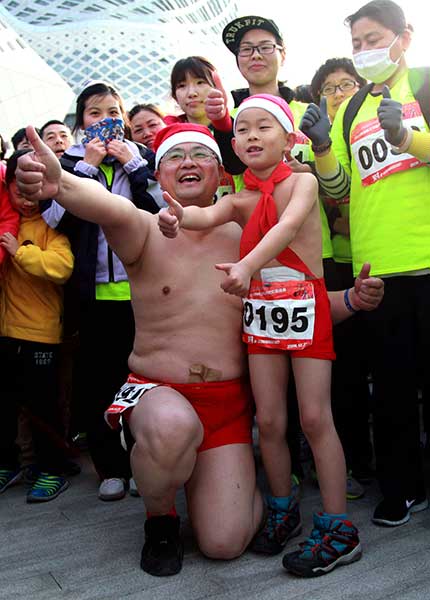 "Eagle Dad" He Liesheng and his son He Yide attend a 5.5-kilometer race in Nanjing, Jiangsu province, in December 2014.[Liu Jianhua/For China Daily]
Self-styled 'Eagle Dad' says his sometimes controversial parenting style helps to toughen his son up
A man known throughout China for his uncompromising parenting style has courted controversy once again by signing his 8-year-old son up for an entrance exam to an elite university.
He Liesheng, 47, first hit the headlines in February 2012, when he uploaded a video of his then 4-year-old son, He Yide, crying and running nearly naked through the snow in New York.
The video drew both criticism and praise, but the self-styled "Eagle Dad" said such techniques would toughen up his son, who was born prematurely with several health problems, including water on the brain, which led doctors to diagnose him with cerebral palsy.
In the years since, He's son has been made to sail solo in a dinghy on the open ocean, march most of the way up the 3,776-meter Mount Fuji in Japan and in 2013, he broke a Guinness World Record for the youngest person to pilot a plane, age 5.
Now, "Eagle Dad" has registered his son, and himself, for a marketing management program run by Nanjing University in their hometown of Nanjing, Jiangsu province.
Some might argue that 8 is too young to be attending university, but He says he pays no attention to netizens' criticisms, insisting that his methods, though unconventional, are the best way to bring up his child.
The boy is home-schooled using textbooks developed by his father and does well in most courses, including Chinese, mathematics and physics, with an academic level equal to that of a grade nine student, according to He Liesheng. "He performs better than other children his age, shows strong self-discipline and is very effective at learning," he said.
Every day, the 8-year-old gets up at 5:30 am and goes to bed at 8 pm. He even has to study at the weekends, sometimes.
Yet he does not complain and feels proud of his academic achievements, according to his father.
"Sometimes the boy envies other children's slow pace of learning, but he also enjoys his studies and his life," he said.
"You cannot protect your children forever. You should make them compete and push them to progress, like how eagles train their offspring."
However, Wang Liping, an education expert and former principal of the Nanjing Zhongshan Elementary School, warned against the negative effects of such strict teaching methods.
"Parents have the freedom to educate their children the way they believe is best, but a child's growth has certain patterns and rules," Wang said.
"It's against their nature to be educated too harshly."