From regiment to retirement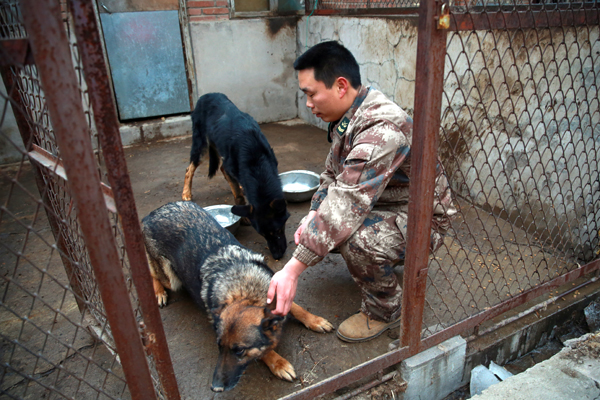 When army dogs reach the end of their service lives, they are transferred to a special retirement unit at the camp. [Photo by Zou Hong/China Daily]
Although it is common knowledge that the People's Liberation Army's dog base in Beijing provides the nation's troops with the best four-legged soldiers available, it is less well-known that the base also runs a care home for retired army dogs.
Life expectancy for dogs is between 10 and 15 years. Army dogs can join military operations at around 2-years-old, when they have been fully trained, but they are usually retired at age 7 or 8 because their bodies are no longer able to cope with intense missions.
At present, there are about 100 retired dogs at the training base. However, the majority were not retired because of age but as a result of training-related injuries and personality issues, said Luo Bingkun, who oversees the care of the retired dogs.
"Not all dogs are built to be army dogs. Some may be too playful to obey orders. It doesn't matter why they retire - we will take care of them until they die," he said.
Saihu was on the way to becoming a promising army dog when he broke a leg jumping off a bridge during a training exercise in 2015. The leg had to be amputated, and although 3-year-old Belgian Milionis is now accustomed to the quiet life at the care center, he still remembers all the commands and tries to react to them.
"Just like people moving into a retirement home, it takes time for army dogs to adjust to their new lives. You can tell that they are depressed because they don't see their trainer every day and don't get as much exercise as they are used to," Luo said.
The best option is for the dogs to be adopted by their trainers or partners, but sometime personal circumstances mean they don't enjoy happy endings. The PLA is now encouraging members of the public to adopt retired army dogs so they can enjoy the love and care provided by families, he added.
Zhang Ke, the training director at the base, outlined the process: "We conduct careful and detailed evaluations of families that wish to adopt retired army dogs to make sure they can take care of them. The families are also required to report the dog's health condition on a regular basis."
Retired army dogs can make great pets, but the owners need to understand how they have been trained and how to handle them.
"Some of these dogs should not live with small children because they are trained to go after people who are running away, so they may chase and bite the children, who are very likely to run around," said Mary Peng, CEO and founder of the International Center for Veterinary Services in Beijing.
Yang Yuhai, a trainer at the base, has decided to adopt Allen, a 2-year-old Belgian Malinois army dog, when they both retire.
"I don't know where Allen will go and which troop he will serve in five years' time, but I will give him a home when he retires so we can take care of each other once again," the 26-year-old said.