Trump backs one-China policy
Assurance in call with Xi paves way for enhancing relations, analysts say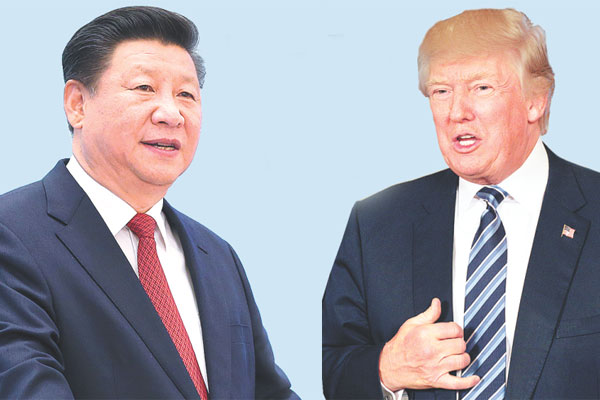 In a phone call with President Xi Jinping on Friday, US President Donald Trump assured his Chinese counterpart that Washington will continue to honor the one-China policy, which analysts said removes an obstacle to developing bilateral ties and paves the way for cooperation.
In their first telephone conversation since Trump's inauguration, the two leaders also agreed to maintain close contact and said they expected to meet with each other at an early date.
After winning the presidential election in November, Trump broke with precedent and took a phone call from Taiwan leader Tsai Ing-wen.
In several tweets afterward, Trump said he would use the one-China policy as a bargaining chip in dealing with Beijing, an issue that Beijing said was "non-negotiable".
Analysts said that since Trump has said he will honor the one-China policy, the two countries can prepare for two-way consultations by senior officials in key areas, as well as a possible meeting between Xi and Trump sometime this year.
The two leaders have yet to meet since Trump took office on Jan 20.
The White House said in a news release that the "lengthy" phone call "was extremely cordial".
Trump told Xi that he was fully aware of the great importance of the US government honoring the one-China policy.
Xi hailed Trump's assurance and said the policy forms the political bedrock for Sino-US relations.
Xi also said "necessity and urgency are on the rise" for the two countries to reinforce cooperation in such areas as the economy, culture and infrastructure.
Foreign Ministry spokesman Lu Kang said the big picture of China-US cooperation will not be affected as long as Washington handles the Taiwan question properly.
Beijing hopes to work with Washington "for greater development of China-US ties from a new starting point", Lu said.
Ruan Zongze, vice-president of the China Institute of International Studies, said that since Trump's assurance on the one-China policy has removed a stumbling block on bilateral ties, "the two sides can now start talks on a two-way cooperative mechanism and further collaboration on international affairs".
Ruan envisioned high-level consultations that could include, or be similar to, the China-US Strategic and Economic Dialogue.
Cheng Li, director of the John L. Thornton China Center of the Brookings Institution, said that improving US relations with China and Russia is part of Trump's global strategy.
Li Haidong, a professor of US studies at China Foreign Affairs University, said that Trump's clarification on the one-China policy likely is the result of evolving discussions within the Trump team on China policies and the end of the team's internal divergence.
Since China is indispensable for resolving many global and regional issues, part of Trump's long-term diplomatic strategy may be to "strike a balance between US treaty allies and China", not sabotaging ties with either side, Li added.
Zhong Feiteng, an expert on Asia-Pacific affairs at the Chinese Academy of Social Sciences, said Trump's clarification might have been partly driven by the urgency to fulfill his campaign pledges on economic policies.
"Since China accounts for 30 to 40 percent of global growth, if he breaks up with China, it will be quite difficult for him to boost public satisfaction and employment," Zhong added.