Cold spell challenges post-holiday travel rush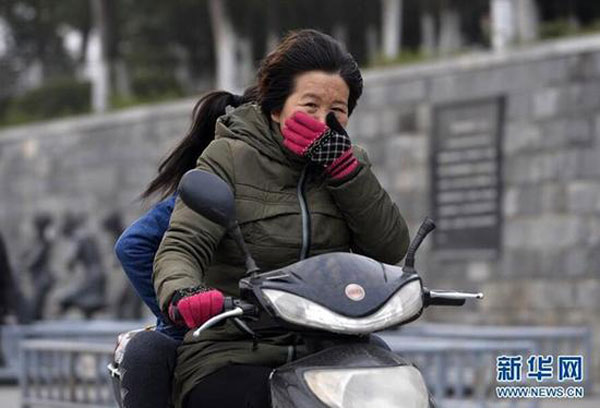 Woman riding an electric motorcycle on a cold day. [Photo/Xinhua]
Traffic authorities around China are taking measures to ensure a smooth journey for travellers heading back to work after the Spring Festival holiday, as a cold front is forecast to hit parts of the country.
According to the National Meteorological Center, eastern and central regions will see rain, snow and a drop in temperature from Monday night to Thursday.
According to Nanchang Railway Bureau, headquartered in east China's Jiangxi Province, various departments are preparing for extreme weather.
The bureau has arranged personnel at stations to help passengers and non-slip mats have been placed at the stations.
Workers have been dispatched to patrol tracks to prevent them from freezing. Some stations have prepared emergency power generators.
The expressway connecting the cities of Wuhu and Xuancheng, in the eastern province of Anhui, has been using electronic screens to show traffic information along the road. Some personnel has been arranged to maintain order at the Wuhu station, according to Anhui Transportation Holding Group.
The train station of Zhengzhou City, in Central China's Henan province, has also arranged workers to remove ice and snow from the railway.
The high speed train station of Zhengzhou has opened more ticket changing and refunding windows to meet the growing demand in extreme weather.
This year's Spring Festival travel rush lasts until Feb 21.