Two rescued, seven killed in Wenzhou building collapse
Only two of nine people survived the collapse of four residential houses in Wencheng county in Wenzhou, Zhejiang province, on Thursday morning.
The buildings, four to five stories tall, collapsed at 8 am.
Those caught in the collapse were from two families, including a family of six - an old couple, their son, daughter-in-law and two grandsons.
Hu Qinghua, 63, called her son and daughter for help in the afternoon, which helped the rescue team locate her.
She was pulled from the debris about 10:40 pm on Thursday, and another survivor was rescued at about 7 am on Friday. The final person was found dead around 10 am on Friday, which ended the search.
The two survivors were rushed to hospitals for further treatment and remain stable.
With the help of eight cranes and excavators, more than 400 paramilitary officers, firefighters, township officials and medical workers carried out the rescue operation.
Fifty-eight people living nearby were evacuated.
Local authorities have launched an investigation into the collapse of the buildings, which were built by local farmers in 2002.
"We will deepen the investigation of other residential houses ... especially self-built ones. The further reconstruction of urban villages and dilapidated buildings will be carried out to ensure the safety of local residents," Zhang Shouyu, acting county chief of Wencheng, said at a news conference on Friday.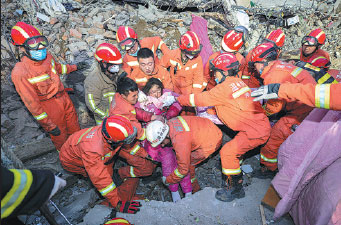 Rescuers pull a survivor from the debris in Wencheng county, Zhejiang province, on Friday. Seven people were killed and two others survived after four houses collapsed on Thursday morning. Yu Genling / For China Daily