Bodies pulled from rubble after landslide
Rescuers on Sunday retrieved the bodies of the 12 people who died after a landslide destroyed part of a hotel in Nanzhang county, Hubei province, on Friday, with authorities describing the incident as a natural disaster.
The landslide hit the Mirage Hotel at 7:24 pm when about 3,000 cubic meters of land slid down a slope behind the hotel, trapping 15 people in the debris.
First responders were able to pull four people alive from the debris, but one of those later died in hospital, the county government said.
Bai Zunguo, deputy head of the Nanzhang county government, said experts had found that erosion from rainwater had destabilized the land, with the effects of freezing and thawing eventually leading to the landslide.
"Freeze-thaw action resulted in the expanding of cracks before the land eventually collapsed," Bai said.
Of the three people who survived, two are in stable condition and the other is receiving treatment at an intensive care unit.
He said rescuers had to suspend their efforts for nearly five hours due to risks of a secondary disaster. They were also forced to detonate a rock weighing 150 metric tons to continue with their search and rescue efforts.
The 15 people trapped in the debris included hotel workers, guests and hotel owner He Dahui, who died in the disaster.
The Mirage Hotel, built in 2007, is a three-story building with a total area of 1,300 square meters.
Bai said authorities have launched a countywide campaign to check areas with geological hazards to prevent a similar incident from happening again.Zhou Lihua contributed to this story.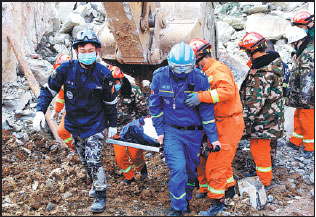 Rescuers retrieve a body from the rubble on Sunday after a landslide destroyed part of a hotel in Nanzhang county, Hubei province, on Friday.Xinhua