Municipalities get new mayors
Shanghai's Ying vows to keep watchful eye on housing prices
New Shanghai Mayor Ying Yong said the city never wants housing prices to get too high because that could drive young people away, sapping the city's vitality and innovation, and hampering its long-term development.
"Measures were introduced in Shanghai last year to realize the central government's real estate market regulation and control requirements, and they have effectively moderated housing prices," Ying said at a news conference on Friday at the close of the annual Shanghai Municipal People's Congress.
"We firmly hold to the position that homes are for living in, not speculation," said Ying, whom the city's lawmakers had elected as mayor earlier in the day.
"On the other hand," he said, "we will continue to improve the subsidized housing program. Altogether, 50,000 government-subsidized apartments will be added to help the needy. In addition, the regulation of real estate agencies will be toughened, and the rental market will be further nurtured and developed."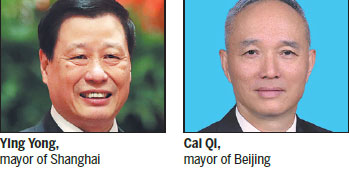 Ying expressed full confidence in the stability of Shanghai's economic development, and he spoke on topics such as the city's free trade zone, its persistent efforts to successfully become a global center of scientific and technological innovation, the city's constant endeavors to improve air quality.
Born in neighboring Zhejiang province in 1957, Ying was named Shanghai's deputy Party chief in June 2014. And in September 2014, Ying was elected executive deputy mayor.
From January 2008 to April 2013, he was president of the Shanghai Higher People's Court, and he served as head of the city's organization department in 2013 and 2014.
Before that, he worked in a court, the discipline inspection commission and police department in Zhejiang.
He graduated with a master's degree in law from Hangzhou University, now renamed Zhejiang University.
Earlier in the week, on Tuesday, Shanghai's legislature approved the resignation of former mayor Yang Xiong.
In Beijing on Friday, acting mayor Cai Qi was formally elected as mayor during a session of the Beijing Municipal People's Congress.
Cai, 62, was appointed as the capital's deputy mayor and acting mayor in October, after his predecessor Wang Anshun was transferred to a leading position at the State Council's Development Research Center, the central government's top think tank.
In the past two and half months, Cai has spoken out about integrated development among Beijing, Tianjin and Hebei.
He said Beijing would make more efforts to deal with big city problems and provide a better environment and public services for residents.
Du Juan in Beijing contributed to this story.
zhouwenting@chinadaily.com.cn