Air quality improves in north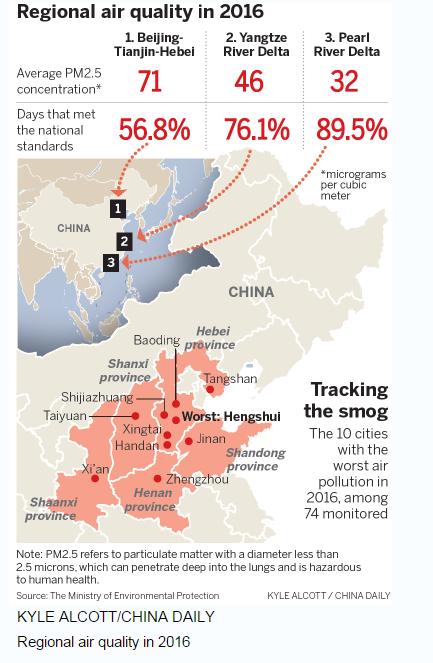 Cities taking further action to reduce coal consumption in heating season
The Beijing-Tianjin-Hebei region saw improvements in air quality in 2016, though it was at times still plagued by severe pollution.
The average concentration of PM2.5, a hazardous pollutant, has decreased by 33 percent compared to the level in 2013, with an annual reading last year of 71 micrograms per cubic meter, said Wu Jiyou, deputy head of environment monitoring department of the Ministry of Environmental Protection, on Friday.
The decrease showed the region has exceeded the targets set in the national action plan one year ahead of schedule, which required a regional reduction of 25 percent by the end of 2017.
But the vast northern region, covering Beijing, Tianjin, and the provinces of Hebei, Shandong and Henan, still suffered from severe air pollution.
"The air pollution in the vast northern region worsened in winter, especially after the heating started," Wu said, adding that none of the 13 regional cities have reached the national standards.
From the start of the heating season on Nov 15 until the end of the year, the average PM2.5 readings in the Beijing-Tianjin-Hebei region soared to 135 micrograms per cubic meter, 2.4 times the average level in non-heating months, Wu said.
Six of the 10 with the most severe air pollution last year were in Hebei province, the ministry said.
The lingering severe smog has become a priority for these governments.
"They have developed joint controls in reducing air pollution, including some new measures that are expected to work better for smog control," said Liu Bingjiang, head of the ministry's air quality management department.
Beijing, Tianjin and four neighboring cities of Hebei province have formed a core region in which they will forbid coal consumption except for power generation and heating, which should reduce emissions next winter, Liu said.
These local governments will continue to conduct strict controls on emissions in 2017, including suspending some polluting industries in winter, and upgrading the industrial structure to reduce highly polluting companies, Liu said.