Global travel cooperation between Shouqi Car Rental and Europcar officially launched for Chinese people to enjoy overseas car rental service
On January 12, 2017, the Press Conference on Strategic Global Travel Cooperation between Shouqi Car Rental and Europcar was held in Beijing International Hotel. Shouqi Car Rental and Europcar, a major player in the global vehicle rental industry, signed an in-depth strategic agreement to carry out cooperation in the global car rental market and create a mechanism of sharing the global car rental resources. Then, the customers of Shouqi Car Rental in Chinese mainland can rent the vehicles of Europcar at airports and the outlets in urban areas through the App and website of Shouqi Car Rental and other channels. The two parties will provide users with excellent overseas car rental experience.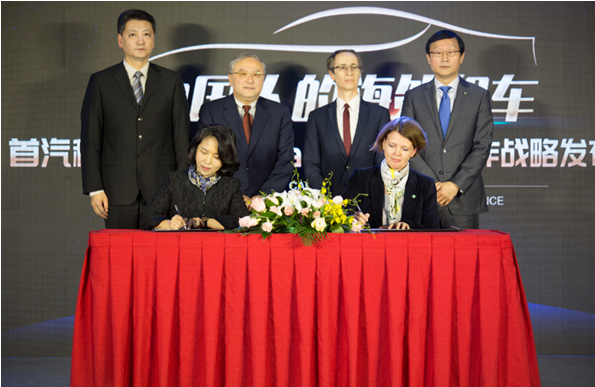 Recent years have seen growing demand of the Chinese for overseas car rental service. The Chinese people's overseas car rental transactions hit 13.13 billion Yuan. As a leader in global car rental industry, Europcar has 3,700 stations distributed around the world, with the business covering over 150 countries. Holding more than 200,000 vehicles, it boasts an annual income of over two billion euros. Especially in the European car rental market, Europcar has a share of 20% or so, leading the Europe for a long time. Moreover, Europcar stands out in the global car rental industry in terms of service quality. Its "customized service", "dealers' supporting services" and various "standardized car rental service procedures" are deeply trusted by users in Europe and America.
As one of the representatives in the car rental industry of China, Shouqi Car Rental ranks among the top three in terms of market share, and boasts nearly 500 offline direct outlets in more than 70 domestic cities as well as over 30,000 vehicles. With the support of Shouqi Group, Shouqi Car Rental has all along provided high-quality car services, known as a benchmarking enterprise in the industry. In the field of long-term car rental service, it has been highly praised by the government agencies and well-known enterprises like the Ministry of Commerce under the State Council, China Development Bank, ABB and Exxonmobil.
The cooperation between Shouqi Car Rental and Europcar aims to establish convenient and professional cross-border car rental service system and standards based on the concept of high-quality car rental service. Shouqi Car Rental advocates the development concept of "grand travel", characterized by barrier-free connection between transportation terminals such as airport, port and railway station. It tries to make the travel easier by providing better and more convenient services. In the specific cases of cross-border car rental, tourist car rental and self-driving tour, etc., Shouqi makes overall deployment of personnel and resources for the "grand travel", creating a new ecological chain of car-related services. The cooperation with Europcar is an important strategic move of Shouqi Car Rental to explore the global car rental market. For example, the cross-border car rental, as a key link of the "grand travel", will play a significant role of "pipeline" in the global car rental market. The car rental industry, originally limited by regional market segmentation, will achieve further expansion in more transnational cooperation.
In regard to specific business, Shouqi Car Rental has also succeeded in enriching its own car rental service system, providing domestic customers with first-class car service overseas. Meanwhile, Shouqi and Europcar shared each other their respective brand values and industry experiences accumulated for a long time. In the fields of business sharing, customized car service, environmental protection and scale management, the two parties are willing to and need to draw lessons from each other and carry out cooperation.
More Comfortable and Convenient Global Travel by Rented Car
Take the market environment for example. Due to the lack of a unified language environment, legal environment and national environment, the car service market varies in different countries and regions. Moreover, some domestic third-party platforms feature a weak sense of responsibility and poor management, greatly increasing the hidden cost of cross-border car rental. In the future, a series of troubles can be dodged via the cooperative platform of Shouqi and Europcar. With respect to application for international driving license, cross-border car rental and return, guidance and training of overseas traffic regulations, customer service by Chinese language and car rental insurance, users enjoy various supporting services for international car rental business, thus able to save unnecessary expenses and avoid opaque blind zones. The overseas travel by rented car will be convenient, comfortable and simple.
More Standardized Service Process
Different from the numerous "tricks" and "bundled consumption" of some overseas car rental channels in China as well as the "unaccustomed" performance of foreign car rental enterprises in Chinese market, the new international car rental service launched by Shouqi Car Rental and Europcar is very fit to the consumption customs of domestic car rental customers. The diversified "customized car rental services" and "one-stop service" greatly meet people's needs for car service overseas. At the same time, the entire service process is transparent. Users can quickly subscribe rented cars of Europcar overseas through the APP and website of Shouqi Car Rental.
More Considerate Benefits for Car Service
Various "benefits for car service" are available for users in the international car rental business, including the GPS, child seats, Chinese interpreters to meet the car rental customers at the airport and warm festival activities. As the key cooperation project of Shouqi Car Rental and Europcar, the international car rental business will deliver huge amount of welfare and preference to users regularly. Moreover, the two parties will organize colorful offline activities for the fans to exchange their experience in using rented cars and share their moving stories overseas.
The cooperation between Shouqi Car Rental and Europcar directly results in the combination of Chinese and international car rental markets, breaking the blockage of the original cross-border car rental market environment and initially laying a foundation for the integration of resources of the international car rental market. Meanwhile, the two parties also set an example for the operators in the car rental industry. They open the channel and market by quality and service and integrate their existing resources to achieve win-win results. It is believed that Shouqi Car Rental and Europcar will go further with greater success on the road of cooperation.
For more information on Shouqi Car Rental and its latest activities, please visit its official website (www.izuche.com) or follow its official Wechat account.