Xi: Strict discipline required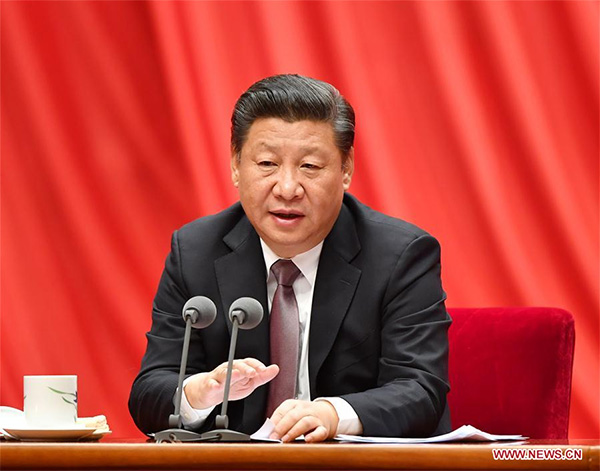 Chinese President Xi Jinping speaks at the seventh plenary session of the 18th Communist Party of China Central Commission for Discipline Inspection, Jan. 6, 2017. [Photo/Xinhua]
Election fraud must not occur, president tells watchdog meeting
President Xi Jinping required on Friday strict discipline in personnel reshuffles to prevent election fraud ahead of a key meeting of the Communist Party of China later this year.
Party organizations at all levels are required to strengthen management and follow strict disciplines to ensure the right direction of the election, he said while addressing the opening of the annual plenary session of the Party's discipline watchdog, the Central Commission for Discipline Inspection.
"Those who are excellent in both morality and capability should be chosen and promoted," he said.
The 19th CPC National Congress is scheduled for the second half of this year, during which the next top leadership will be elected. Before and after the congress, a large number of personnel reshuffles are expected at various levels across the country.
An editorial published on Friday by People's Daily, the CPC's official newspaper, also called for "zero tolerance" in handling election fraud, warning Party members to learn from past political scandals.
Any malpractice, such as vote soliciting or vote buying, should be severely probed and punished, it said.
The three-day meeting, during which members of the commission will discuss and determine this year's anti-graft priorities, is expected to conclude on Sunday.
China witnessed a number of severe election scandals in the past few years. In all, 523 deputies to the Liaoning Provincial People's Congress, among the total 616 deputies who participated in the provincial election in January 2013, were found to have taken bribes.
They either resigned or had their qualification as deputies terminated after the scandal exposed their wrongdoings.
More than 950 officials who participated in, or bore responsibility for, the case have received punishment, according to the CCDI.
China has undertaken a massive campaign against corruption since the current top leadership was elected in late 2012 at the 18th CPC National Congress. More than 100 officials above ministerial level have been probed for corruption since then.
In the past four years, corruption has stopped spreading and a "crushing momentum" against graft has taken shape, Xi said on Friday.
But the task is still arduous, and China will "never reduce the high pressure against corruption, and the zero tolerance attitude will be maintained", he said.
Jiang Laiyong, a senior researcher with the China Anti-Corruption Research Center at the Chinese Academy of Social Sciences, said election fraud is a universal problem in the world due to its complexity, and it's very timely that the top discipline watchdog is addressing the issue at its plenary session.
"It's more than necessary to update relevant Party rules to meet the needs of reality, and further improve the supervision system within the Party and standardize the nomination for the election candidates," he said.
In addition, Party officials who don't perform their duties to monitor their subordinates should face more severe Party or administrative penalties, including warnings or even being expelled from the Party, he suggested.