Big update of train networks cuts travel time in China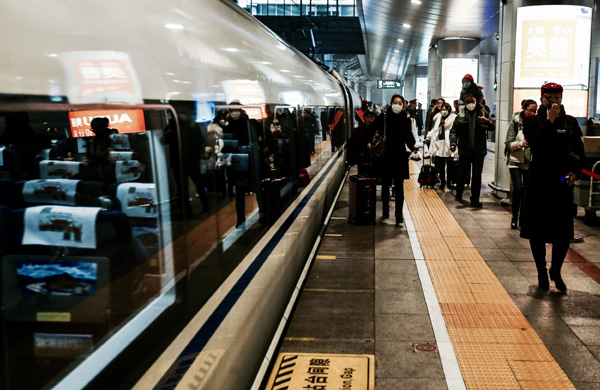 The Beijing-Kunming high-speed train departs from Beijing West Railway Station on Jan 5, 2017. [Photo/CRIENGLISH.com]
China Railway Corporation (CRC), China's national railway operator, says that a large number of railway lines have started operation on Thursday.
135 pairs (two trains that go in opposite directions for the same line between two destinations) of passenger trains would go down the new lines.
A highlight of the update is that the operation of the high-speed rail from Beijing to southwest China's Kunming, the country's longest high-speed railway line, will cut down travel time between the two cities from 33 hours to about 13 hours.
The Beijing-Kunming high-speed line is 2,760 km in length, which is about the distance from Manchester, England to Athens, Greece (2,637 km).
The route passes through 6 provinces in China, making it the longest rail in the country, and takes a travel time of 12 hours and 53 minutes.
Other high-speed trains that connect big cities such as Guangzhou, Zhengzhou, Wuahan to Kunming southwest China would also be opened, shortening travel time significantly.
Meanwhile, Shanghai-Kunming high-speed railway, which opened in last December, has also reduced the traveling time between the two cities to about 11 hours from about 34 hours.
Apart from building new railway lines, the CRC is also going to extend some old lines. For example, a pair of trains that connect southeast China's Fuzhou and northeast China's Harbin would be extended to Jiamusi (located in the north of Harbin).
A few measures, such as changing railways lines that some trains have been operating on, are taken to cut passengers' traveling time as well.
As the Spring Festival is approaching, a time when concerns a vast number of Chinese people traveling back home, the CRC says that the railway passenger capacity is forecasted to greatly increase this year.
It anticipates that 356 million trips will be made on the railway network during the Chinese New Year, which would increase 9.7 percent compared with 2016.