Efficiency in government top priority
Delegation, simplification among decisions made by State Council
China will work harder to use simpler, more straightforward procedures and balanced market regulation to streamline government administration.
A series of decisions to accomplish this goal was announced on Wednesday during the State Council's executive meeting, chaired by Premier Li Keqiang. The State Council is the highest executive agency of State power.
The measures include delegating more authority to local governments and reducing central government certification and evaluation requirements. Also, the country will issue its first guideline for market supervision and regulation to make its business environment more inviting.
"Our reform in streamlining administration for leaner and more effective government now steps into a crucial stage," Li said. "All departments must handle their duties, and make sure to lower institutional costs for enterprises.
"The key in transforming government function is to strike a balance between the government and the market, and our goal is to effectively unleash and grow productivity potential."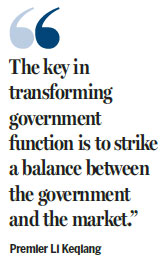 The power represented by 53 administrative approvals now handled by the central government will be delegated to local government, mainly covering business activities such as qualification certificates for private schools and business permits for cotton processing, providing more convenience in business registration.
The delegation of 14 of the items needs to be further approved by the National People's Congress Standing Committee because amendments to the law will be required. Since 2013, 230 administrative items have been delegated to local governments.
Another 20 agency evaluations and certifications will be dropped to simplify regulation in areas like railway facility construction and qualification for legal professionals.
The guideline for market supervision announced during the meeting will provide for a more open, better regulated and attractive business environment, officials said. The guideline will run concurrently with China's 13th Five-Year Plan (2016-20).
The new guideline is geared toward easier market access, fair competition and greater consumer safety.
A list of measures to be adopted includes further streamlining business registration and employing negative list-based market access with a focus on compliance oversight. Also included are a level playing field for nonlocal businesses - with fair competition and a ban on discretionary charges or sectoral subsidiaries - and an emphasis on regulation and enforcement in food and drug safety and other areas crucial to public safety and security.
A negative list says which activities are prohibited, while all others are considered to be allowed.
In addition, the announcement said the government needs to improve in regulatory innovation through such means as Internet Plus - the integration of the internet with traditional industries - and the use of big data.
"Supervision must be carried out in a lawful and well-regulated manner, so that companies won't be subjected to extra burdens," Li said.
Jia Xijin, a professor of public management at Tsinghua University, said the measures are in line with market trends and would boost market vitality with simplified processes and better public services.
Jia said she was particularly impressed with measures that ease market access and strengthen supervision on products closely related to people's lives and health.
However, she said it will take more time and effort to complete the challenging and complicated processes needed to stringently regulate delegated administrative powers.