China set to strengthen global role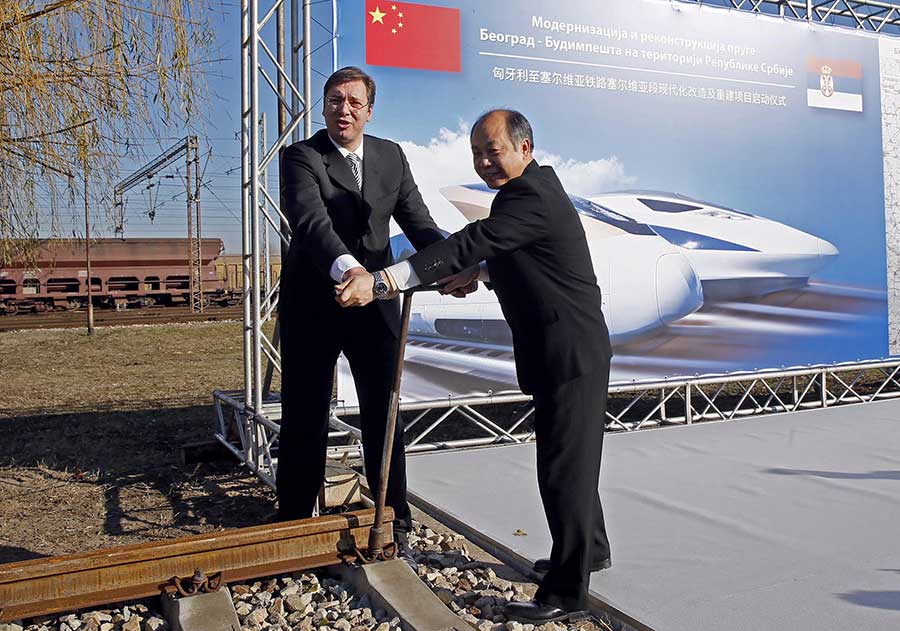 Budapest-Belgrade railway: The project to modernize the Belgrade-Budapest railway was initially agreed in 2013 at the China- Central and Eastern European countries leaders' meeting in Bucharest, the capital of Romania.[Photo/Xinhua]
Laying the path of interconnectivity
During overseas visits last year, President Xi Jinping rarely ate at public activities other than banquets, but he happily bit into a red Polish apple during a ceremony in Warsaw, the capital of Poland, in June.
The ceremony was held to mark the arrival of the first China-Europe Block Train, which transported Chinese-made products, including electronic components, from Chengdu, capital of Sichuan province in Southwest China, to Warsaw. Later, the train made the return journey laden with Polish commodities, including agricultural produce such as apples.
The practice of boosting interconnectivity is an important part of China's Silk Road Economic Belt and the 21st Century Maritime Silk Road, known collectively as the Belt and Road Initiative. In 2013, Xi put forward proposals to create the project, with the aim of building a trade and infrastructure network along the ancient Silk Road trade routes to connect Asia with Europe and Africa. Regions along the route of the initiative are home to 63 percent of the world population and account for 29 percent of the global economy.
China has signed cooperation agreements with 40 countries and global organizations related to the project, according to the Foreign Ministry.
On Dec 3, Foreign Minister Wang Yi told a seminar in Beijing that China would hold a summit to aid international cooperation on the Belt and Road Initiative, adding that it would be the most important diplomatic event the country will host this year.
During his five overseas trips last year, Xi repeatedly called on relevant countries-in Southeast Asia, Central Asia, Europe and Latin America-to cooperate with China on the project.
Ruan Zongze, vice-president of the China Institute of International Studies, said the Belt and Road Initiative would allow China to share opportunities with the world, especially with developing countries, under the principle of self-determination, equality and mutual benefits.
"The Belt and Road will be the main theme of Chinese diplomacy in 2017, as the world looks forward to China's solutions to the uncertainties and challenges," he said.