China set to strengthen global role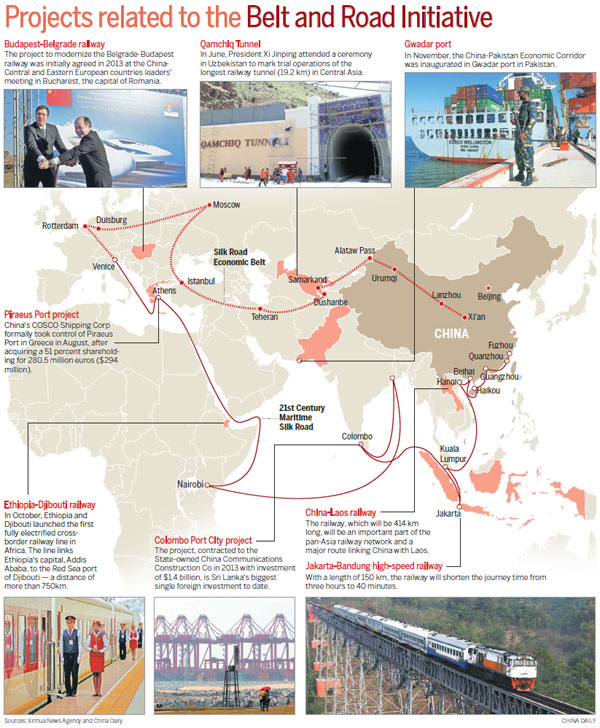 Economic hitchhiking
During his five trips overseas last year, Xi made efforts to elaborate on China's views about global governance, and he invited other countries to "hitchhike on China's economic development".
For example, while visiting Serbia in June, Xi said China wants to share its advanced technologies and management experience with the central European country to create job opportunities and improve people's living standards.
During the trip, the Serbian Prime Minister, Aleksandar Vucic, accompanied Xi on a visit to the small town of Smederevo, whose century-old steel mill went bankrupt in 2003. The mill was purchased by China's Hebei Iron and Steel Group for 46 million euros ($52 million) in April. "Thanks to President Xi and the Chinese company for bringing new hope to the 5,000 workers," Vucic said.
In October, during Xi's first state visit to Cambodia, the two countries signed 31 cooperative documents to boost cooperation in areas such as loans, trade deals and the construction of power plants. In addition, China also agreed to import 200,000 metric tons of Cambodian rice.
In early December, in a congratulatory letter to an international symposium in Beijing, Xi said China has actively participated in global governance and promoted inclusive development, creating opportunities for all countries, especially developing economies, to share the fruits of development.
In the coming five years, China's combined import and export volume will reach $8 trillion, while overseas investments will reach $750 billion and the number of outbound tourists will reach 700 million, Xi said, during a trip to South America in November.
Jia Xiudong, a researcher at the China Institute of International Studies, said Beijing has provided both capital and projects for countries that want to use China's development to help their own economies. For example, at the UN Sustainable Development Summit in September, Xi said China would establish an assistance fund for South-South cooperation, with an initial pledge of $2 billion to support developing countries.