Beijing in 2016 saw more 'good air' days
Official concedes improvement 'not huge enough' yet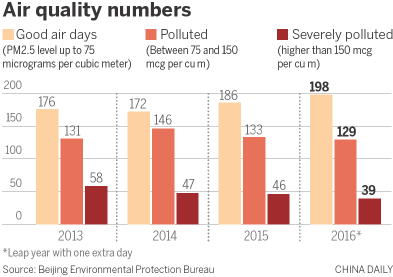 Beijing experienced 12 more blue-sky days last year compared with 2015 and saw a 9.9 percent drop in the average daily concentration of PM2.5, according to data released on Tuesday, when the capital was again shrouded in thick smog.
The city had 198 "good air" days, while the number of "severely polluted" days fell by seven to 39, Zhang Dawei, director of pollution monitoring for the Beijing Environmental Protection Bureau, said at a news conference.
"Good air" days are those when the daily concentration of PM2.5-airborne particles of 2.5 microns in diameter or smaller that are harmful to health-is below 75 micrograms per cubic meter, while "severely polluted" is higher than 150 mcg per cum.
The average level was 73 mcg per cum, down by 9.9 percent year-on-year, although that was still more than double the national standard set by the State Council.
The bureau's report said the reduction could be attributed to the government's strict controls on coal consumption, the phasing out of polluting vehicles and companies, and strengthened pollution monitoring.
Fang Li, the bureau's director, previously said the capital would take tough measures to cut the average level of PM2.5 to 60 in 2017.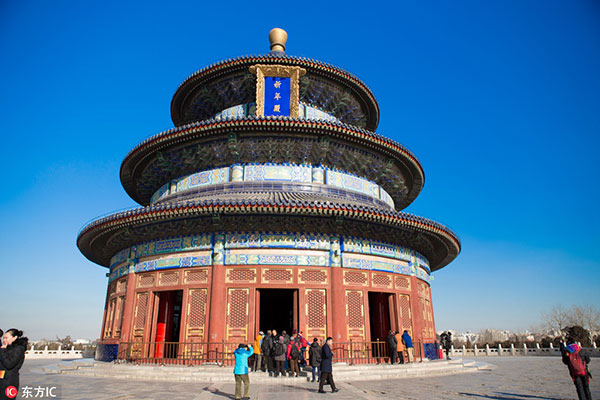 The Temple of Heaven in Beijing is seen in this picture on Dec 29, 2016. [Photo/IC]
Meanwhile, Beijing experienced another bout of severe air pollution that started on Friday, prompting authorities to issue an orange alert-the second-highest level in a four-tier emergency response system. The smog was forecast to remain until Sunday.
Despite the data indicating an overall improvement in air quality, many Beijing residents were not convinced.
Li Xinying, 45, a stay-at-home mother, said she has had a severe cough during the New Year holiday, which she blamed on the worsened air quality. "It felt like we had more smoggy days in 2016 than in 2015," she said.
Yu Jianhua, the Beijing environmental bureau's chief engineer, conceded that the improvements made last year were "not huge enough" to change residents' perception of overall air quality.
Xie Shaodong, a professor of environmental sciences at Peking University, said that while the government's data is authentic, he understood why many people might believe little progress has been made. "When the PM2.5 concentration is higher than 35 mcg per cu m, any increase or reduction in concentration will make little difference in terms of visibility," he said.
Even if the PM2.5 reading fell from 100 to 50, visibility would in most cases stay below 15 kilometers, he said. "But if the reading is lower than 35, the reduction of every microgram per cubic meter would improve the visibility largely."
Xie said this is based on theories, widely agreed upon among global environmental experts, linking PM2.5 and visibility.