Ivory stockpiles could stymie government ban, expert says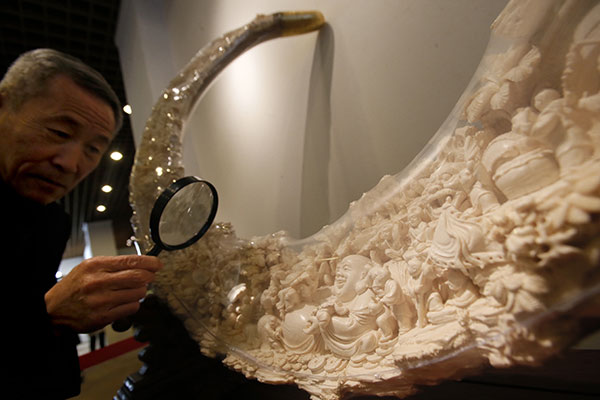 An ivory sculpture is displayed at the International Cultural and Creative Industry Expo in Beijing in 2015. CAO BOYUAN/CHINA DAILY
China has taken a historic step to ban the commercial ivory trade by the end of 2017, but campaigners warn that legal ivory stockpiles could become an issue.
In 2008, China legally imported 62 metric tons of elephant tusks from four African countries under the Convention on International Trade in Endangered Species of Wild Fauna and Flora, one of four legal sources in China.
To curb demand, the State Forestry Administration said it has put just 5 tons a year on the market for manufacturers.
However, the real consumption of legal ivory is less than that. According to an expert at an international NGO who declined to be identified, only an estimated 2 or 3 tons were processed and sold every year.
This means 40 tons of legal ivory was stockpiled at the end of last year, yet manufacturers will be banned from being able to use or sell it after Dec 31 this year.
A notice released by the State Council said only "legally sourced ivory products can be ... displayed, ... transported, gifted and inherited".
Officials from the administration did not respond for comment.
Mo Junhao, deputy general manager of Guangzhou Daxin Ivory Craft Factory in Guangdong province, said it has not received any notice from the local authorities, but "will simply follow the government's orders".
As to its remaining stockpile and how to deal with it, Mo said he could not share that information with the media.
Zhou Fei, head of the China office of Traffic, an NGO that monitors the global wildlife trade, said that according to the State Council notice, it is unlikely that the government would buy back the ivory.
"When the Chinese government banned the processing and sale of tiger bones, the government didn't purchase or destroy the tiger bones," Zhou said. "Actually, companies already have enough time to deal with the stockpile. As early as May 2015, Zhao Shucong, former chief of the State Forestry Administration, said that China would ban the legal ivory market.
"If processing and sale sites cannot find buyers before the end of this year, then there is a reason to worry about where the stockpile will go," Zhou said.
Aili Kang, executive director of the Wildlife Conservation Society's Asia program, said that if the government does not redeem the stockpile then there is a high possibility that it would go onto the black market and undermine the implementation of the policy.
She suggested the government register and seal all legal raw ivory and ivory product collections.