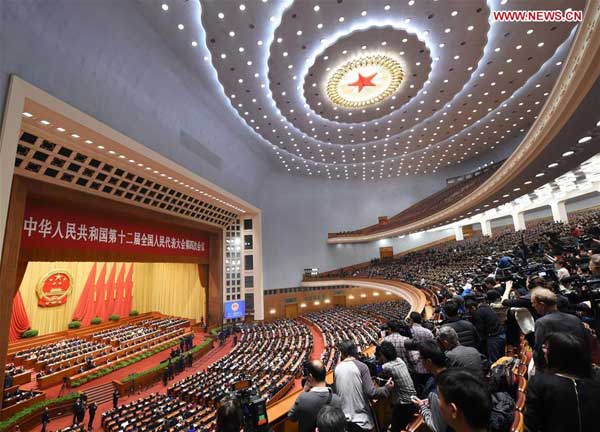 The closing meeting of the fourth session of the 12th National People's Congress is held at the Great Hall of the People in Beijing, capital of China, March 16, 2016. [Photo/Xinhua]
BEIJING -- As China's annual parliamentary session draws to an end, the "four consciousnesses" has emerged as a popular catchphrase frequently underpinned not only by top leaders, national lawmakers, but commentators and news anchors.
Observers say the essence of the concept boils down to the unwavering conformity with the ruling Communist Party of China (CPC)'s leadership, which is vital in China's final countdown in building a moderately prosperous society by 2020 as well as for the country's future destiny.
CONFORMING WITH CPC CENTRAL COMMITTEE
Prior to the parliamentary session, Qiushi Journal, the flagship magazine of the CPC Central Committee, published a commentary on March 1, underscoring the need to promote the "consciousnesses of the ideology, the whole, the core and the line."
Faithfulness to the Party's core leadership is characterized by staunch loyalty to "the CPC Central Committee, [its] General Secretary Xi Jinping as well as to Party theories, guidelines, principles and policies," it said.
On the day that the Qiushi article was published, Liu Yunshan, member of the Standing Committee of the Political Bureau of the CPC Central Committee, said that "conforming with 'the line' is a significant political principle," and it is where the Party's strength and advantages lie.
In his government work report delivered on March 5, Premier Li Keqiang also underscored the importance of maintaining political integrity, being aware of the bigger picture, following the CPC as the core of the Chinese leadership and acting in accordance with CPC Central Committee policies.
The consciousnesses of "the ideology" and "the whole" are not new in the Chinese political arena. They have been brought up since the CPC initiated the reform and opening up drive more than three decades ago.
The concepts require CPC officials to adhere to the correct political direction, always bearing in mind the ultimate interests of the party and the nation in making decisions and implementing Party policies, to ensure that China will always focus on economic development and stick to the path of socialism with Chinese characteristics.
It is thanks to this practice that the CPC and the Chinese people have been united for the same goal of development, growing the Chinese economy to the world's second largest and making it an important growth engine for the world economy.