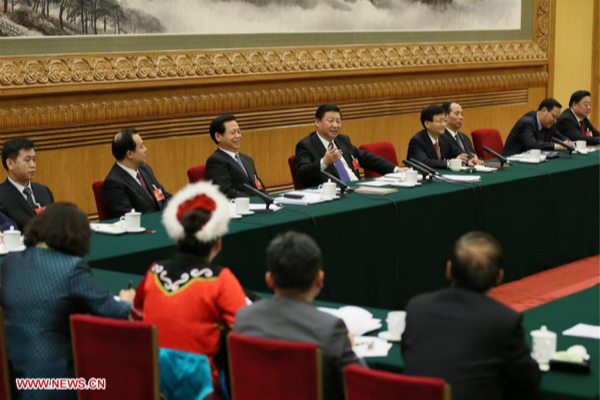 Chinese President Xi Jinping joins a group deliberation of deputies from Heilongjiang province to the annual session of the National People's Congress in Beijing, March 7, 2016. [Phtoto/Xinhua]
BEIJING -- President Xi Jinping on Monday called for deeper reform to revitalize China's northeastern industrial base.
Xi urged lawmakers from Heilongjiang to pursue innovative, coordinated, green, open and shared development when participating in deliberations on the government work report at the fourth session of the 12th National People's Congress (NPC).
He said that local government and Party officials must abide by the law as they implement reform policies and that they should encourage the public to do likewise.
Capable, honest officials should be rewarded with promotions, the president said.
The meeting also discussed the shift of economic engines, food prices, poverty relief and structural reform in industrial bases.
In a panel discussion with NPC deputies from Fujian province, Premier Li Keqiang urged authorities of the eastern coastal province to strengthen the green and maritime economy and build a strategic pivot for coastal development.
Li asked the province to speed up a shift in growth by boosting smart manufacturing and the modern service sector and to take more initiative in advancing reform and opening up as well as the peaceful development of cross-Strait relations.