Spring Festival: 100,000 requests in 15 hours but no train ticket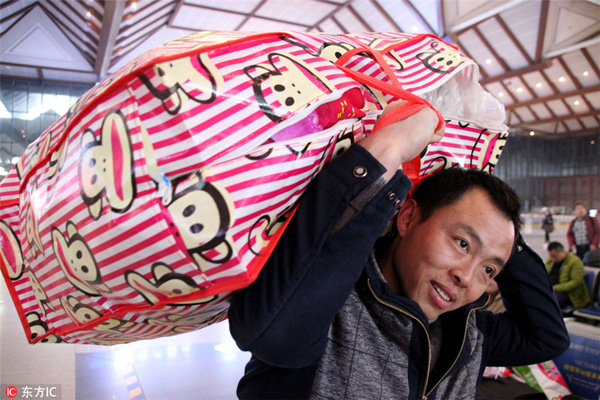 A migrant worker carries a luggage bag in a railway station in Suzhou, Jiangsu province, on Dec 15, 2016. With the festival more than one month away, some migrant workers have packed up their luggage and embarked on the journey back home to avoid the travel rush. [Photo/IC]
The year 2017 is to going to be the hardest Spring Festival journey home, as the number of trips during the holidays is projected to reach nearly three billion. With the passenger number reaching an all-time high, getting hold of a rail ticket is proving to be harder than ever.
A reporter from National Business Daily tried to buy a bullet train ticket from Guangzhou, South China's Guangdong province, to Changsha, Central China's Hunan province, from the railway operator's official website, 12306.cn, and official app for four straight days between Dec 24 and Dec 28, only to find all his efforts go in vain.
The country's rail operator began issuing tickets 30 days before the New Year's Eve of Spring Festival, a time traditionally for family reunion, which falls on Jan 27.
On Dec 28, the reporter decided to pay 50 yuan ($7.2) more per ticket to try a software that reportedly increases the chances of securing a rail ticket by 69.5 percent. The software tried to bump his name up on the list, but gave up even though the reporter sent 100,000 request in 15 hours.
According to the official weibo account of China Railway Corporation on Dec 26, Changsha ranks third on the list of top 10 destinations across China, only second to Wuhan and Xi'an.
Official data show 12.343 million train tickets were sold on Dec 26, with 9.3 million purchased online, or 75.4 percent of all tickets bought.
"A total of 3,570 pairs of trains will operate after the new schedule comes into effect on Jan 5," said Yang Yudong, Transport Deputy Minister and Head of National Railway Administration, adding that the passenger capacity will increase more than 7 percent compared to the same time of last year.
During the 2016 National Holiday, railways across China undertook 14.41 million trips, setting a new record for railway passenger capacity and far surpassing any daily passenger capacity of previous Spring Festivals.
"As we were able to handle more than 14 million trips during National Holiday, we can also reach that capacity during this Spring Festival," Yang said.
Though the passenger capacity has improved than ever, the pressure on transport system this year is higher than previous years, said Lian Weiliang, Deputy head of National Development and Reform Commission.
National passenger flow volume is expected to create new high, Lian said. He estimates roads to take 2.52 billion trips, up 1 percent from the last year, railways to take 356 million trips, up 9.7 percent from the last year, airways to take 58.3 million trips, up 10 percent from the last year, and waterways to take 43.5 million trips, up 2 percent from the last year.
"The Spring Festival this year has come earlier in recent five years. Students and migrant workers head home in the same time period. Therefore, the travel peak comes earlier, lasts longer and peaks higher," said Lian.