New year to bring heavy smog to northern regions
Beijing has issued an orange pollution alert from Dec 30 to Jan 1
Just in time to see in the new year, another bout of smog is to descend on Beijing and Tianjin, as well as Hebei, Henan and Shandong provinces, arriving on Friday and lasting for four to five days, the weather authority said on Thursday.
The Ministry of Environmental Protection issued notices to local governments on Wednesday night, asking them to take emergency measures to reduce the coming smog, while eight cities in Hebei, including Shijiazhuang, issued red alerts and Beijing issued an orange alert on Thursday.
Air pollution will worsen in some parts of the Beijing - Tianjin-Hebei region on Friday and expand to cover larger areas, "among which, the southern part of Hebei and neighboring parts of Shandong will experience more severe pollution", said Ma Xuekuan, chief forecaster at the Central Meteorological Observatory.
The smog will clear on Jan 2 due to mild winds, but will return on Jan 3 for two more days, Ma said.
In addition to smog, some cities in northern regions will experience heavy fog, which could reduce visibility to 200 meters and add to traffic congestion during the three-day New Year's Day holiday, Ma added.
Residents in northern regions experienced this year's most severe smog both in severity and coverage, which lasted for about a week earlier this month, triggering more than 25 cities to issue red alerts - the highest in a four-tier warning system, followed by orange, yellow and blue - leading to the suspension of schools and some factories, and limited use of vehicles.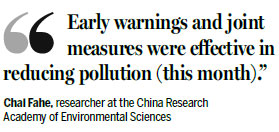 To cope with the coming smog, the ministry has called for joint measures and will send 10 inspection teams to affected regions to monitor the implementation of such measures.
Beijing, which issued its only red alert this year from Dec 16 to 21, has issued an orange alert from 12 am on Friday to 12 am on Sunday for the coming smog.
Eight cities in Hebei, including Shijiazhuang, Baoding and Xingtai, have issued red alerts, according to the provincial government.
Inspectors from the ministry and local governments exposed many violations of factory suspensions during the last round of smog.
For example, some iron and steel companies were found discharging pollutants despite restrictions, and are expected to face heavy punishments, according to a previous statement by the ministry.
"Early warnings and joint measures were effective in reducing pollution (this month), thus the ministry will continue to promote coordinated efforts to reduce smog," said Chai Fahe, a researcher at the China Research Academy of Environmental Sciences.
Despite a smoggy start to 2017, Beijing will enhance efforts to control air pollution with an aim of lowering the city's average PM2.5 - fine particulate matter less than 2.5 micrometers in diameter that is hazardous to human health - concentration to 60 micrograms per cubic meter, said Fang Li, head of the Beijing Municipal Environmental Protection Bureau, on Thursday in a report to the capital's lawmakers.