Making the mighty Mekong safer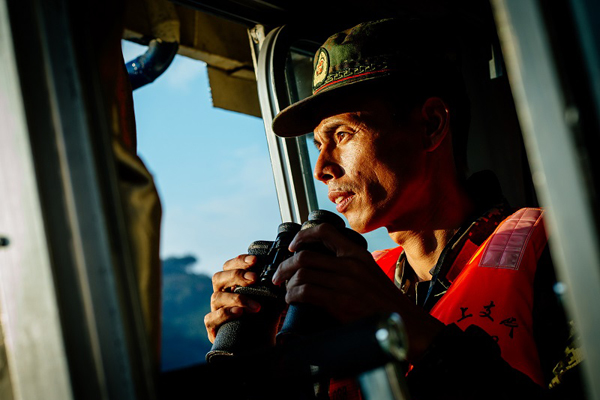 Tan Jianhua watches traffic during a patrol drill. Photo By Qian Cheng / For China Daily
Ship's captain joined police patrols after 13 friends were killed in 2011 massacre on the river
Tan Jianhua is not far past the midpoint of his career as a ship's captain, but he knows he wants to spend the rest of it ensuring safer navigation on the Mekong River.
After years at the helm of a ship, Tan became a surveillance officer in Yunnan province's border patrol police department, performing marine patrol and law enforcement duties on the river.
He took up the role five years ago, in response to a call for experienced helmsmen following a mass shooting on the river in October 2011 that shocked the world.
All 13 Chinese crew members aboard two cargo ships were killed and dumped in the Mekong River near the point where Myanmar, Laos and Thailand meet, a notorious drug-producing region known as the Golden Triangle.
In response, China reached an agreement with the three neighboring countries to jointly patrol the river.
Tan became a member of the police patrol police in November that year.
"I was excited when I set off to patrol the river for the first time as a police officer. I am happy to see my old friends who are able to navigate the river without worrying about their safety or their lives," the 40-year-old veteran seaman said. "I was acquainted with all of the 13 victims. We sailed together, we shared meals and we shot the breeze.
"Some of my old friends left the river after the massacre and some waited for things to get better. I chose to stay by the Mekong River because I have spent most of my career here."
Tan is a native of Chongqing municipality who came to Yunnan soon after graduating from a river transport services school two decades ago.
He gradually worked his way up the ranks, becoming a captain in 2004.