Inspector numbers grow to ensure safety
The newest 200 State-level drug inspectors were sworn in at a work conference held by the top drug authority on Thursday, bringing the total number of inspectors within the force to 649, including 108 who specialize in overseas inspections.
The team performs on-site inspections at pharmaceutical factories to ensure drug safety and public health, said Bi Jingquan, head of the China Food and Drug Administration.
It's the latest move by the country to establish a full-time professional on-site drug inspection team.
"Their inspections cover the whole process, including drug research and development, manufacturing and sales, while discipline supervision over their work ensures an open and fair practice," he said.
Previously, drug inspections in China mainly involved standard checking of end products rather than a system addressing the whole process, according to Zang Kecheng, administrative office chief of the CFDA's Center for Food and Drug Inspection. Most of the inspectors work part time on the task.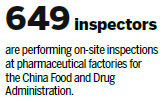 "There were not enough staff members to meet demand. Also, focusing only on the standard of end products cannot guarantee quality and safety, as regulations can be circumvented," he said.
For example, in previous food safety cases involving gutter oil, the end product - illegal cooking oil recycled from waste oil collected from sources such as sewer drains - actually met standards during tests.
To avert such a situation, "inspections covering the entire production process must be in place to better protect the people", Zang said.
Zhang Hua, a veteran drug inspector from Shanghai, said inspections at drug manufacturing plants usually take four to five days and mainly target infrastructure, workers' competence and quality control systems.
"It's technically challenging and requires inspectors to have a professional background in pharmaceutical chemistry and a knowledge of the industry as a whole," she said.
Zhang also has to have a strong command of the English language as she performs her duties overseas, largely on production sites of foreign pharmaceutical companies that export drugs to China.
"We are short staffed, so my colleague and I are traveling 200 days a year doing inspections," she said.
Zang said the government has been building up the team and capacity for drug inspections, adding that the US Food and Drug Administration has 5,000 full-time drug inspectors.