Chinese UN peacekeepers young and eager to break language barriers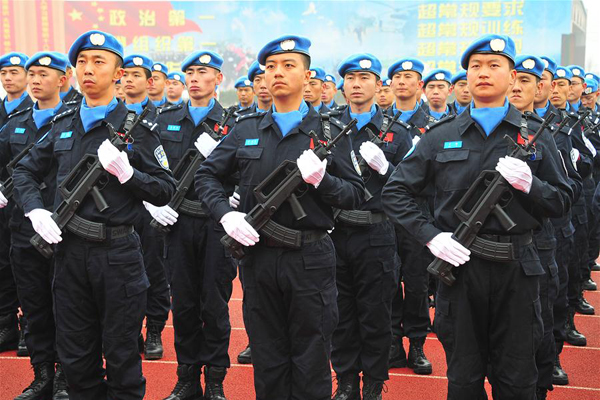 Members of China Standby Peacekeeping Police Force attend the force's founding ceremony in Dongying, East China's Shandong province, Dec 22, 2016. [Photo/Xinhua]
For members of China's first standby police force of UN peacekeeping missions, English proficiency plays as important role as other skills.
With an average age of 27, the force consists of more than 300 members, who are selected from border control forces around the country. Among them, 56 have experiences of conducting peacekeeping missions.
Lyu Yanchen, selected for an anti-riot command position, said his task requires him to excel at management, communication and coordination in addition to basic physical abilities and English skills.
Bai Haitao, 41, told PLA Daily that the training is intensive: "I feel tired as I am relatively old in the force. Besides, the requirement to learn English language for peacekeeping work is highly demanding. I often do the homework until 1 am and get up again at 5 am to study."
The standby peacekeeping police force was set up in Dongying, Shandong province, last week. It is divided into two subordinate anti-riot forces.
Members of the first anti-riot force passed assessments by the UN in October. The second force is preparing for the assessments.
This is China's first standby police force for UN peacekeeping missions, after President Xi Jinping told the United Nations General Assembly on Sept 28, 2015 that China would contribute 8,000 troops for UN standby peacekeeping force.
China started sending military observers to UN peacekeeping missions in 1990. The country currently has over 2,600 peacekeeping personnel, including 173 police officers, 30 military experts and over 2,400 troops, involved in 10 UN peacekeeping operations, making it the largest contributor of personnel to UN peacekeeping forces among the five permanent members UN Security Council.
The UN does not have its own military force, and it depends on members states. More than 118,000 military, police and civilian personnel are currently serving in 16 peacekeeping operations around the world led by the UN as of July 31, 2016.
The peacekeeping troops are tasked with protecting civilians, UN staff and humanitarian workers, conducting patrols and providing security escorts.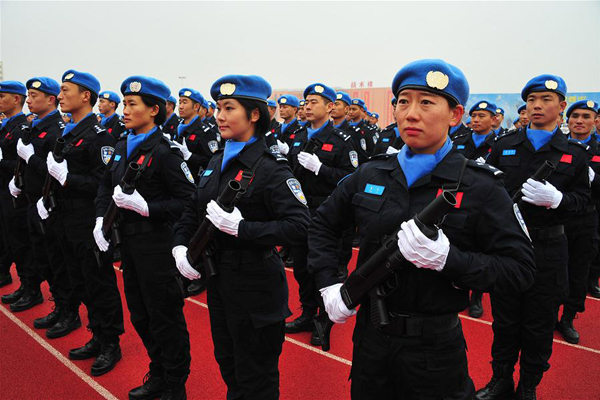 Members of China Standby Peacekeeping Police Force attend the force's founding ceremony in Dongying, East China's Shandong province, Dec 22, 2016. [Photo/Xinhua]