Join hands to beat bullies, experts say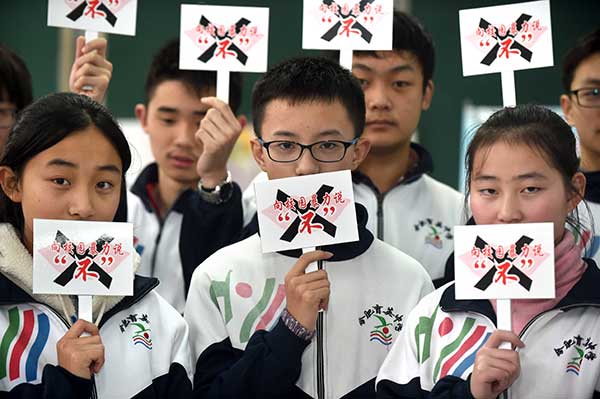 Students hold placards that read "Say 'No' to campus violence" on Dec 21 at Yuying Middle School in Hefei, Anhui province.[Xie Chen/For China Daily]
Teachers, parents and public security authorities need to work closer together to combat bullying, according to a senior judicial official.
The Supreme People's Procuratorate, the top prosecuting authority, received about 1,900 cases related to school bullying in the first 11 months of this year, leading to 1,100 arrests and 2,300 prosecutions, according to data released on Wednesday.
Yet complaints of campus violence remain difficult to detect and prove, said Shi Weizhong, deputy director of the authority's Juvenile Procuratorial Affairs Office.
He said the Chinese laws covering juveniles, particularly those under 14 years old, are too general to provide guidance on intervention and rectification.
"So in this regard, we can learn from other countries in handling such cases, such as sending young people involved (in bullying) to specialized schools or organizations to receive education and psychological consulting, and engage them in social services," he said.
Shi suggested setting up more offices and institutes aimed at educating young people about bullying, while schools should provide more information in the classroom as well as tighten security and work more with parents to avoid student conflicts from escalating.
His remarks come weeks after an online post by a Beijing mother about her son's treatment at the hands of bullies put a spotlight on the issue. She said the boy, who is in fourth grade, had developed acute stress disorder after being mocked by classmates and attacked with a waste bin.
Zhang Zhijie, director of the Juvenile Procuratorial Affairs Office, said the top prosecuting authority has been cracking down on bullying and campus violence.
"Young people involved in such cases for the first time and whose behavior had only a slight adverse affect are treated with mercy to allow them to get on track," he said. "But those who have committed crimes time and again which had severe consequences are punished without leniency."
The Supreme People's Procuratorate has set up more than 2,000 education centers to work with schools in educating students on the law, and appointed 7,300 procurators as vice-principals at middle and primary schools nationwide to raise legal awareness, Zhang said.
According to the data released on Wednesday, the vast majority of complaints filed with the authority about school bullying involved male offenders, although Shi said the proportion of female offenders is rising.
There was also a notable increase in middle school students aged between 14 and 18, he added.