Li calls on entrepreneurs and innovators to drive growth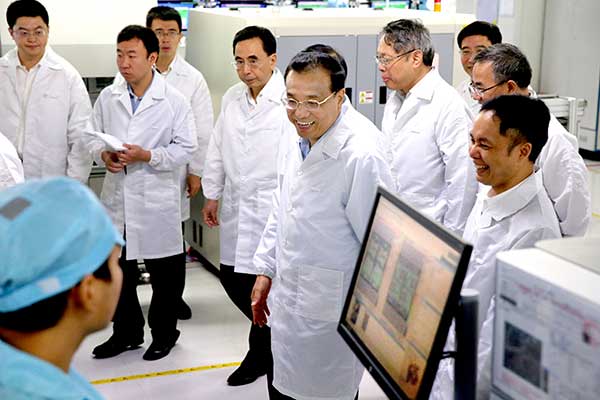 Premier Li Keqiang visits a high-tech company during a trip to Guangdong province for an innovation and entrepreneurship workshop.[Wu Zhiyi/China Daily]
This year, the Chinese premier has made a point of visiting startups and small businesses as he plans the nation's path to the future. Hu Yongqi reports.
On April 25, a large crowd scrambled into an open courtyard and waited breathlessly to witness a badminton exhibition between Premier Li Keqiang and the Robomintoner, a rectangular platform equipped with optical lenses, spherical wheels and two badminton rackets. It is the first intelligent machine in the world to play the game.
While some observers at the event in Chengdu, the capital of Sichuan province in Southwest China, marveled at the robot's abilities, many more were busy filming the contest on their cellphones.
The robot returned the premier's first serve perfectly, but it failed to hit the second shuttlecock over the net, which resulted in a tied game, according to Huang Shan, general manager of Chengdu Champion Robot Technology Co, which manufactures the Robomintoner. Huang stood beside Li to introduce the robot and its functions.
The badminton game quickly earned the robot enormous popularity online and also spurred sales. So far, the company has sold more than 120 of the robots, which cost 400,000 yuan ($57,000) each.
Praised by the premier for its core technologies, the Robomintoner uses human-computer interaction and cloud control to perform intelligent, autonomous operations that allow it to train amateur players and provide practice for veterans.
The technology for the robot was developed by a group of professors and students at the University of Electronic Science and Technology of China in Chengdu.