'Golden crops' set to help county prosper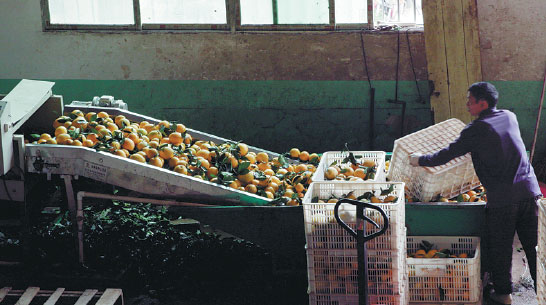 An employee of Huichang Xinfeng Fruit Industry Co pours oranges onto a conveyor belt.
Hope returns
Now nursing more than 260 grafted tangelo trees, Ma expects to earn 110,000 yuan this season, and he is relieved that his luck has finally turned. "Even if it remains extremely hard to labor in the orchard at my age, I don't feel the effects of the toil because I can see hope once again," he said, his voice cracking with emotion.
Thanks to the government's push and with technical guidance from Rao, the fruit-planters in Zhonggui have expanded the area covered by tangelo orchards to 300 hectares. With a further 200 hectares devoted to navel oranges, fruit cultivation has contributed more than 64 million yuan to the village since 2014, generating an average net gain of 10,000 yuan for each resident.
About 400 villagers who lived below the national poverty line have shed their impoverished status after boosting their earnings considerably through the cultivation and sale of citrus fruits.
Last year, the poverty line for rural residents was 2,800 yuan per person, according to the State Council Leading Group Office of Poverty Alleviation and Development, which adjusts the standard every year.
Since farmers from surrounding townships such as Junmenling and Gaopai joined the Huichang collective, the total area devoted to the cultivation of tangelos has surpassed 2,600 hectares, and the farmers plan to expand the area to more than 6,600 hectares by 2020.
By the same year, poverty should have been eradicated for the 12,000 households that plant tangelos in Huichang, even though about one in 10 is below the poverty line at the moment, said Wen, from the county fruit industry administration.
The ongoing development of the industry has also created jobs in related sectors, such as fruit processing, maintenance of agriculture equipment and transportation.
At the premises of Huichang Xinfeng Fruit Industry Co, which employs about 200 people on a seasonal basis, workers were busy cleaning fruits and sorting them by size and weight before packing them into boxes.
The workers earn about 160 yuan a day, and the two-month work period between the harvest and distribution will bring them at least 10,000 yuan each, just in time for Spring Festival, China's most important holiday, according to Wu Xiaofeng, the factory's general manager.
"The employees are mainly local people who used to work away from home in the coastal provinces, leaving their parents and children uncared for back at home," he said. "Now they can work at home for at least a couple of months and earn some decent money."
There are at least 10 similar fruit processing and packing factories in operation in the county, providing more than 40,000 jobs.
The growers' quest for a better life echoes the county's name - Huichang translates literally as "to prosper" - and the provincial administration's ambitions to eradicate poverty.
Support
Liu Qi, the governor of Jiangxi, has pledged that poverty alleviation will be at the top of his agenda during the 13th Five-Year Plan (2016-20).
He said Jiangxi's poverty-relief measures should be dictated by the market, and residents should be encouraged to establish cooperatives and family businesses.
Liu urged financial institutions to provide greater support for the poverty-alleviation measures by offering insurance services and low-interest loans to help farmers start their own businesses.
The provincial government will provide extra funds to improve the rural infrastructure, including the construction of highways, a power grid, irrigation plants and even access to the internet, to provide better living conditions.
Last year, almost 2 million people in Jiangxi lived below the official poverty line, most of them in rural areas, according to the provincial office for poverty alleviation.
Liu predicted that as Huichang sees the emergence of more businesses tailor-made for regional conditions, such as fruit planting, about 2 million people will be lifted out of poverty by 2018.
Huichang
Soon dawn will break in the east.
Do not say "You start too early";
Crossing these blue hills adds nothing to one's years,
The landscape here is beyond compare.
Straight from the walls of Huichang lofty peaks,
Range after range, extend to the eastern seas.
Our soldiers point southward to Kwangtung
Looming lusher and greener in the distance.