Sino-French arts management school to open
The China Academy of Fine Arts celebrated the inauguration of its new campus in Shanghai on Dec 4.
Located in the suburb of Lingang New City, the campus will be home to the Sino-French Institute of Arts and Design Management, an unprecedented collaboration between China's leading college of fine arts and the Kedge Business School in France.
"We decided to build this partnership because there is a very strong need in China and throughout the whole world for people who can bridge art, design and management," said Thomas Froehlicher, director general of Kedge.
The partnership between CAFA and Kedge was established last year while China and France were celebrating 50 years of diplomatic relations.
During a visit to Lingang New City, CAFA President Fan Di'an convinced the local administration to give the new institute a home.
CAFA has more than 10 years experience providing art and management courses, Fan said, adding that the new institute will bring international vision and help to cultivate new talent needed in the development of China's creative industries.
When completed, the campus will cover an area of 35,000 square meters by Dishui Lake in Lingang. The first phase of construction, consisting of classrooms, exhibition spaces and a library, is complete. Work on the second phase, which includes support facilities such as sports fields and landscaping, is underway by Shanghai Gangcheng Development Co. All educational equipment and research facilities will be provided by CAFA.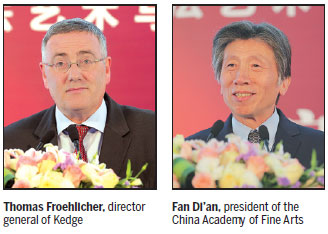 Lingang New City is already home to five universities and institutions, many of which have no specialization, or focus mainly on science, according to Wu Qiang, deputy director of Shanghai Lingang Area Development Administration. About 70,000 students are currently living and studying in the area.
Wu said he hopes the introduction of an art school such as CAFA will create new opportunities for the development of cultural and creative industries in Lingang.
Xu Tao, director of the Education Ministry's department of international cooperation and exchanges, said the new institute will fill a void in China's educational development as the country's education sector enters a new era of communication and collaboration.
The number of private museums in China has mushroomed in recent years, and professional managers who understand art and design are needed, said Yu Ding, head of the institute's preparation group.
Classes are scheduled to begin in September next year, with the program of study involving three years at the institute and one year at Kedge in France.
Graduates will be awarded two bachelor's degrees, one in art and one in management, and will be able to further their studies in France at the Paris-Sorbonne University, the National Superior School of Decorative Arts or Orsay Museum, specializing in subjects such as art and design, museum management or executive management and design.
The program will be trilingual, as the curriculum is in Chinese and English, but students are required to be proficient in French, Froehlicher said.