Mastering English an uphill struggle
A survey by First Leap, an English-language education institute for Chinese children aged 2 to 15, showed 88 percent of parents choose to send their children to study English before age 5, because of the belief that children are better at picking up languages between 3 and 5 years old.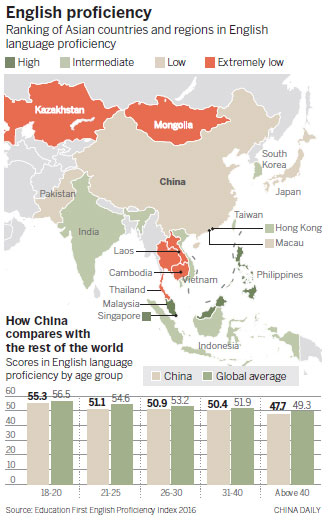 Why, then, has China had such seemingly low returns on its investments? It is a question Chinese educators have pondered for years.
Han Baocheng, an English professor at Beijing Foreign Studies University, who is also deputy director of the National Research Center for Foreign Language Education, has called for a closer look at the textbooks and teaching materials used in schools.
He said most textbooks teach only "survival English", such as introductions, shopping and asking for directions, which are useful for studying abroad.
But for students in China who seldom have the opportunity to practice such English in their daily life, this content is impractical, according to Han.
Learning from others
Christopher McCormick, senior vice-president for academic affairs at Education First, said a dominant test-oriented learning approach, in which both teachers and students pay more attention to memorizing vocabulary and grammar, may have undermined English learning among Chinese.
He compared the situation in China with Sweden, which has consistently placed highly in Education First's annual rankings. Although the official language of Sweden is Swedish, many residents can also speak English fluently, McCormick said.
Sebastian Magnusson, an information officer at the Swedish embassy in Beijing, said the high English proficiency of Swedes might be the result of an immersion approach to learning the language.
The 31-year-old started learning English when he was 10, and now he can speak fluent English and has also mastered Chinese.
"In Sweden, people learn English not only with textbooks or courses at school but in daily life, such as through TV programs, computer games and movies imported directly from English-speaking countries like the United States, without the help of Swedish subtitles or translations," said Magnusson, speaking in Chinese.
Such an approach might likewise help Chinese learners to improve their level of English, he added.
To help achieve better teaching and learning of English in China, a series of reforms have been drafted and carried out in recent years, including a reform of the English test in the national college entrance exams, reform of the college English curriculum and tests and a reform to establish a unified national English proficiency testing and rating system.
As it's still early for such reforms, the effects remain to be seen. But McCormick is positive about developments in Chinese people's English proficiency.
"It takes a long time to make a difference in education and see the results," he said, adding he finds the progress being made by younger people, particularly those aged 18 to 25, encouraging.
"Things are heading in the right direction and the youth of China are speaking better than ever before."