Octogenarian builds porcelain palace in East China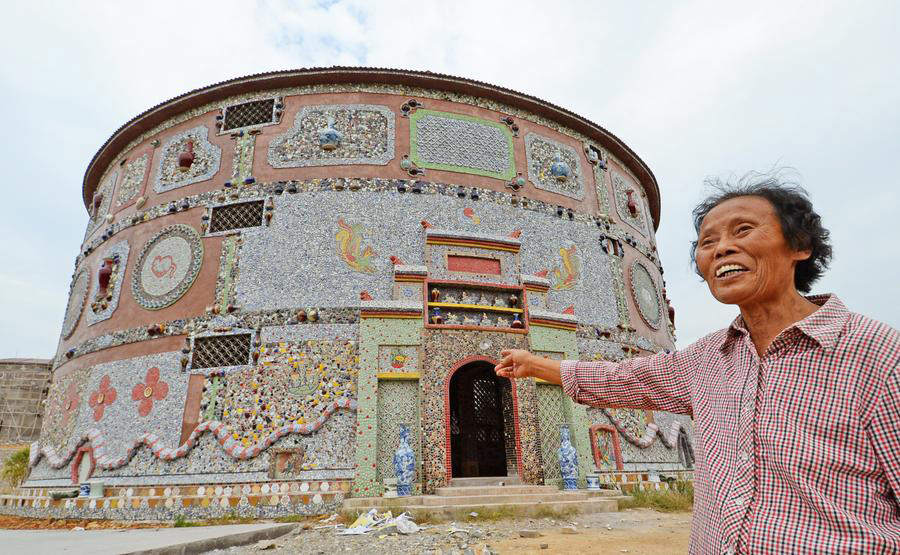 Yu Ermei, 86, introduces a porcelain palace to visitors in Xinping village close to Jingdezhen, East China's Jiangxi province on Sept 21, 2016. [Photo/Xinhua]
NANCHANG -- They say it is never too late to chase your dreams, and Yu Ermei, 86, is the perfect example.
The octogenarian from eastern China's famed ceramics capital Jingdezhen, spent the past six years working on what she proudly dubs "a porcelain palace."
Located in Xinping village close to Jingdezhen, the palace is a dazzling three-story circular building.
The ground floor and outer wall are covered in bright shiny mosaic patterns firmly nodding to Chinese culture -- a dragon, a phoenix, signs of the Chinese zodiac, Tai Chi symbols, -- created with massive quantities of jagged pieces of broken porcelain.
Inside, the effect is simply magical: windows formed in the shape of a porcelain vase, ceilings decorated with delicate porcelain bowls, shimmering walls embedded with unique pieces of porcelain, and paintings showing classic Chinese folk stories. It is a building of breathtaking beauty.
The palace takes up more than 1,200 square meters, using around 80 tonnes of broken porcelain for building and decoration. Mostly collected by Yu over about 30 years.
Why take all the trouble building a porcelain palace when you can enjoy a relaxing old age? It was a question much on the mind of Yu's family. They did not understand what she was going through, even thinking that she must be going senile when she first brought up the idea.
But for Yu, the palace is a meaningful way to wrap up her lifetime career as a porcelain craftswoman and dealer -- a gift for Jingdezhen, the holy city in the heart of porcelain lovers.
Coming to Jingdezhen aged 12, Yu was first an apprentice in a porcelain workshop before working in two state-run porcelain factories.
After sharpening her craft and gaining experience, she opened her own kiln and porcelain factory, making and selling porcelain products and objets d'art around China, even for foreign countries.
Over the years, she made a huge fortune and collected over 60,000 pieces of porcelain.
She was not sure what to do with her huge collection until she saw a unique porcelain house in northern China's Tianjin Municipality, which was built and decorated with copious amount of porcelain.