Famille-rose porcelain exhibition gets underway in Yantai
Updated : 2016-12-14
(chinadaily.com.cn)
A selection of famille-rose porcelain ware was exhibited at the Yantai Museum on Dec 8 to demonstrate the great accomplishments of the country's porcelain industry from the Qing Dynasty (1644-1911) to the early years of the Republic of China (1912-1949).
Some 66 pieces of fine famille-rose porcelain collected by the Yantai Museum are on exhibition.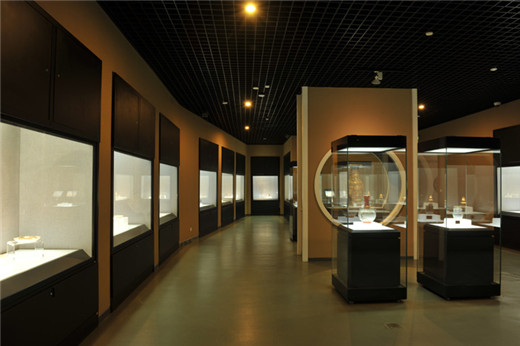 Photo taken on Dec 8, 2016 shows delicate famille-rose porcelain wares displayed during the exhibition of porcelain collections at the Yantai Museum. [Photo/ytmuseum.com]
Famille-rose porcelain first came into being during the Qing Dynasty. The main materials and techniques used to make the porcelain were originally introduced from abroad.
To make famille-rose porcelain craftsmen would fire opaque glass, an opaque white enamel containing arsenic, onto plain porcelain to create patterns with Chinese painting techniques before baking the wares in a kiln. Due to opaque glass, the famille-rose porcelain would acquire beautiful colors.
Famille-rose porcelain in the Qing Dynasty mainly included such items as pots, bottles, wine vessels, jars, basins, plates, urns and boxes.
Patterns mostly consisted of dragons and phoenixes, flowers, landscapes, human figures and themes from legends. Subjects on the porcelain often came from the paintings of famous painters of that time.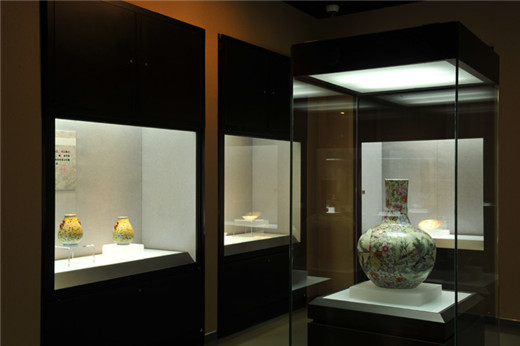 Some 66 fine famille-rose porcelain wares collected by the Yantai Museum are on exhibition.[Photo/ytmuseum.com]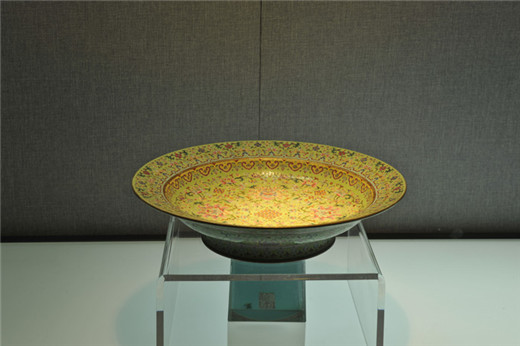 A plate on display at the exhibition of famille-rose porcelain at the Yantai Museum. [Photo/ytmuseum.com]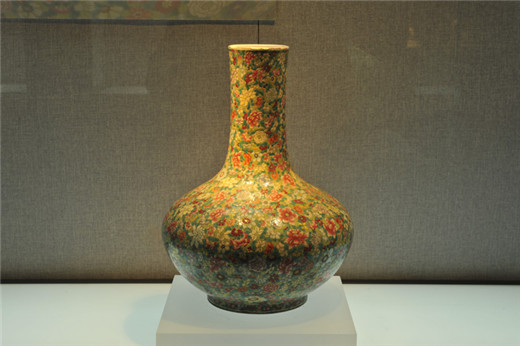 Photo taken on Dec 8, 2016 shows a porcelain vase at the exhibition of famille-rose porcelain ware at the Yantai Museum. [Photo/ytmuseum.com]