Authority touts prioritizing safety to prevent accidents, terrorist attacks
The civil aviation authority is considering long-term measures to guarantee aviation safety, a senior aviation official said on Thursday.
"The major target of aviation safety in 2017 is to prevent major aviation accidents, prevent hijacking, bombing and other terrorist attacks, prevent air force safety accidents and avoid aviation ground and maintenance accidents," said Feng Zhenglin, head of the Civil Aviation Administration of China, adding that all practitioners must be alert to potential safety risks and eliminate them.
"A safety campaign to eliminate potential hazards will be launched. Evaluations will cover all perspectives, and safety issues will be a priority in evaluating airliners," he said.
Feng made the remarks on the sidelines of the annual civil aviation industry conference in Beijing.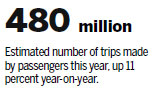 China's aviation industry has boomed in recent years. It is the second-largest country in the world in terms of total volume of passengers and cargo carried by air transportation behind the United States.
The CAAC estimated that passengers made 480 million trips in 2016, up 11 percent year-on-year.
"When a pilot's flight time increases, the risk of potential accidents rises; when the working time of a manager at a flight control department increases, the risk of making mistakes rises," said Li Jian, deputy director of the administration.
In October, two commercial planes nearly collided at Shanghai's Hongqiao International Airport.
An investigation found that the accident was caused by an air traffic control officer. Based on the findings, the CAAC fired or reprimanded 13 staff members at its East China Regional Administration. It suspended the on-duty air traffic control officer and supervisor.
It was the most severe punishment in recent years regarding flight safety, Feng said.
China's civil aviation industry has tallied nearly 46 million flight hours since August 2010 with no major accidents or deaths.
This year, there were 3.95 million flights accumulating 9.46 million hours.
In recent decades, the country has had a respectable record in aviation safety, while developing the industry at a rapid rate, Liu Fang, secretary-general of the International Civil Aviation Organization, told Xinhua News Agency in July.
Its experience in this regard needs to be shared with other countries, particularly developing ones, he said.
luowangshu@chinadaily.com.cn