'Infant stealing' redefined amid effort to fight crimes
People who lure or trick infants in order to abduct them will face heavier penalties, the top court announced.
In a new judicial interpretation, released by the Supreme People's Court on Thursday, acts that involve the abduction of children under the age of 6 through luring them away from their parent or guardian, such as tricking them with toys or coaxing them to play outside, will be defined as "infant stealing".
Under Chinese Criminal Law, people who steal infants will be sentenced to at least 10 years in jail, and serious circumstances, including stealing or treating babies in cruel ways, will result in the death penalty.
In the past, only people who stole sleeping babies were charged with infant stealing, "but such cases were rare", said a judge at the top court's No 3 Criminal Tribunal.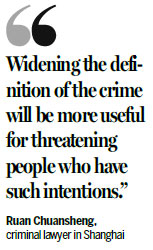 "In other words, the punishment for baby stealers did not play a significant role in the fight against such abductions," said the judge, who declined to be named.
Therefore, it is vital to update the interpretation, "as grassroots courts need practical measures to deal with abduction-related cases, especially a clear definition of infant stealing", he said.
The interpretation, which is to come into effect on Jan 1, stipulates that officers who sell children they look after in places such as medical care institutions or social welfare organizations will be charged with abduction.
Ruan Chuansheng, a criminal lawyer in Shanghai, praised the interpretation. "It will play a bigger and more practical role in solving abduction cases."
"The revision is to fight infant stealing by punishing the thieves more severely. People using tricks to take infants away from their parents is something that happens more frequently than people might think, which is why the top court expanded the definition," Ruan said. "Widening the definition of the crime will be more useful for threatening people who have such intentions."
Ruan spoke highly of various judicial measures against abduction over the past years, adding that the government's determination has been effective in controlling abduction.
From January to November, Chinese courts concluded 618 cases relating to the trafficking of women or children, charging 1,107 people, according to the top court.
The number of such crimes has been falling, it said. In 2015, courts across the nation concluded 853 abduction cases and charged 1,362 offenders. Both the figures were a 50 percent decline compared with 2012, it said.
In addition, the revised Criminal Law, effective since Nov 1, also increased penalties for those found guilty of buying women or children, in an effort to uncover the buyer's market.
However, Ruan said: "Social organizations should contribute more to the fight and provide more psychological support for those who have been abducted. Only relying on policies is far from enough."