Biggest pangolin scale seizure in 5 years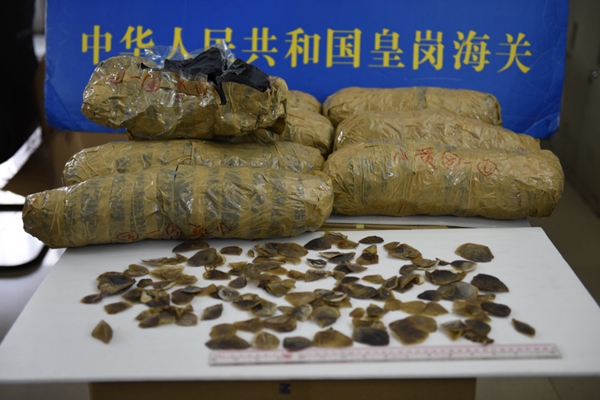 The smuggled pangolin scales seized this week. [Photo provided to China Daily]
More than 50 kilograms of pangolin scales smuggled from Hong Kong have been seized in the biggest case of its kind in nearly five years, customs said on Thursday.
At least 133 pangolins, a scaly anteater-like creature, would have to be killed to produce the amount discovered by Shenzhen's Huanggang Customs.
Only 400 grams of scales can be extracted from each of the endangered wild animals.
The pangolin scales, which are used in traditional medicine, were discovered in a small vehicle on Tuesday when it was crossing the Hong Kong-Shenzhen border.
Although the smuggled items were packaged tightly with layers of plastic paper, they still caused alarm bells to ring.
Customs detained the driver, who, according to preliminary investigations, is from Hong Kong and has previous violation records.
The case has been transferred to the smuggling department for further investigation.
There have been 11 pangolin scale smuggling attempts discovered at Huanggang and Futian checkpoints in Shenzhen over the past five years, totaling 130 kilograms.
In three cases this year, smugglers attempted to take the scales across the border by hiding them in packages, pretending that they were ordinary items like chips, an official from Huanggang Customs said.
"The methods they use have become more concealed and the things they use for cover have become more various," the official said.
According to Chinese laws and regulations, trading, carrying or mailing protected species or products made out of them in and out of the country without export and import certificates issued by relevant authorities is forbidden.
Violators could be held criminally responsible in serious circumstances.