School head suspended over exams during smog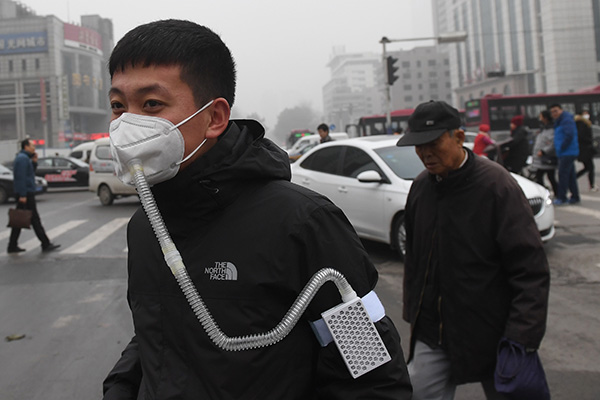 A pedestrian wears a mask on a heavily polluted day in Shijiazhuang, Hebei province, on Wednesday. [Photo/Agencies]
Students took test outside for 4 hours, despite the Air Quality Index being at hazardous levels
The principal of a middle school in Anyang city, Henan province, was suspended on Wednesday after making 480 students take an exam outside in thick smog.
According to Anyang Education Commission, Feng Jisheng, head teacher at No 1 Middle School in Linqi town, failed to heed official requests for all primary and middle schools to suspend classes on Monday due to severe air pollution.
Instead, he made students sit in the schoolyard for at least 4 hours on Monday afternoon, despite an Air Quality Index reading of 500, a level which is officially classed as hazardous, the commission said.
One parent, surnamed Yan, said the students struggled to write papers in poor visibility. "It made me worry about my child, and it should be stopped," he said.
Anyang is among 24 cities in northern and central regions that have issued red alerts, the highest level in the government's air pollution control system, in the past week. The alerts bring with them restrictions on vehicle usage and industrial production, as well as suggestions for the public to remain indoors.
Liang Dawei, director of publicity for Linzhou county, confirmed on Wednesday that Feng received the pollution warnings, "because the education system has formed a quick and convenient way to spread such information via fax, telephone and WeChat".
However, Liang indicated that Feng is unlikely to face any further penalty.
What he did was wrong, "but I think he made the decision to go ahead with the exam as planned because, after all, improving scores is important for Chinese students".
Some also backed Feng's decision. Du Li, an Anyang resident who took his exams on the playground about 20 years ago, said, "It's a traditional way to avoid cheating-teachers walk on the playground to invigilate."
But others voiced concerns about health risks, such as Sun Dazhi, 40, a parent in Anyang, who said, "The scores are important, but without health, there is nothing."
Nationwide, air pollution is improving, according to official data. Residents in six provinces, including Henan and Hebei, and Beijing and Tianjin are expected to be able to breathe clean air from Thursday, when a cold front is forecast to move pollutants southward, the National Meteorological Center said on Wednesday.
The heaviest-ever smog with the longest duration has brought air pollution up to alarmingly high levels in Shijiazhuang, capital of Hebei province, where the AQI remained at or above the hazardous upper limit of 500 for 63 hours until 8 am on Wednesday.
The air quality is forecast to worsen again on Saturday causing a smoggy Christmas weekend, but conditions are set to improve on Monday, the center said.
Contact the writers at qixin@chinadaily.com.cn