Heavy smog disrupts air traffic in North China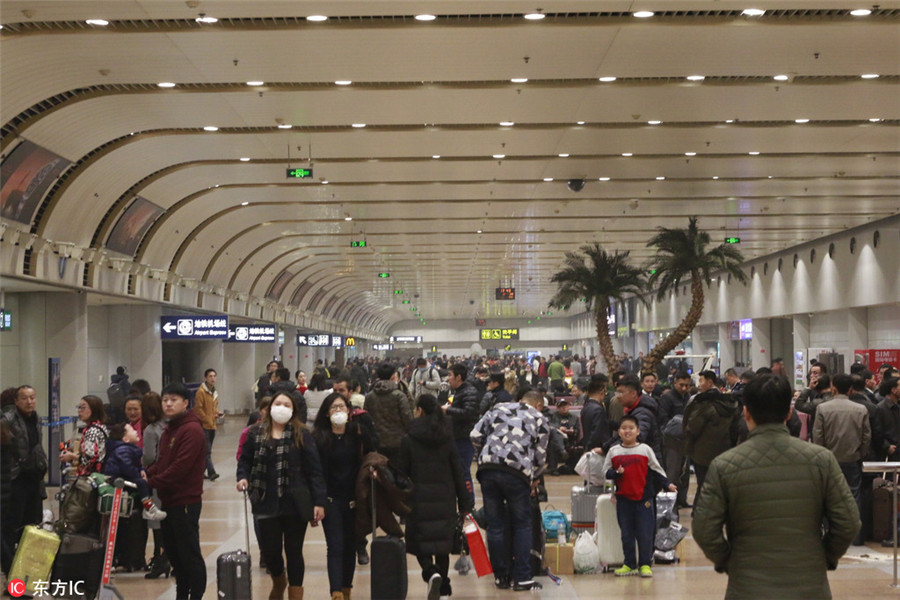 Stranded passengers are seen inside Beijing Capital International Airport as hundreds of flights were cancelled or delayed due to the heavy fog on Dec 20, 2016. [Photo/IC]
SHIJIAZHUANG - Worsening fog and haze in northern China have paralyzed airports in cities including Beijing, Tianjin and Shijiazhuang, the capital of the worst-hit province of Hebei.
Beijing Nanyuan Airport announced it would cancel all arrivals and departures on Tuesday. Beijing Capital International Airport had canceled 273 flights as of 2 p.m.
A total of 75 flights had been canceled and another 44 delayed at Shijiazhuang airport as of 2:30 p.m. due to low visibility and fog.
Weather conditions at Tianjin airport have not been fit for take-offs and landings since Monday night. As of 11 a.m., 190 flights were canceled and 71 flights delayed.
Airports in the cities of Jinan and Qingdao in eastern Shandong Province were also affected by the smog.
More flight cancellations and delays are expected as smog in the region is forecast to continue and worsen until Wednesday night, when the air quality should improve.