Determined scientist studies desert for 30 years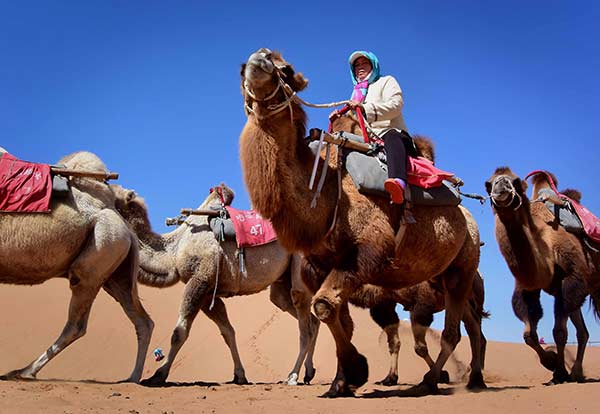 Visitors can have a camel-riding tour of the Tengger Desert in Shapotou, Ningxia Hui autonomous region. [Photo/Xinhua]
En route to Shapotou, there is not much to see except an endless sea of sand. The district, in Northwest China's Ningxia Hui autonomous region, is located where the Yellow River meets the Tengger Desert. For more than five decades researchers have been coming here to fight desertification. Li Xinrong is one of them.
His mantra is: "Sands are as precious as forests", and having been here for three decades, he has clearly developed a close connection to this arid land. "Deserts are landmarks god has given us. They nurture special biotic resources. We must protect them," he said.
Shapotou first hit the headlines in the 1950s with the construction of the Baotou-Lanzhou Railway, an artery that traverses the Tengger Desert six times. The project ran into difficulties in Shapotou's ever shifting sand dunes - hardly an ideal foundation for a railway track. That was when the first group of scientists arrived.
When the trains finally began running in 1958, Shapotou had become renowned as a paradigm of successful sand control, principally the result of the "straw checkerboard" technique. This requires straw, usually made from wheat or rice, to be laid out in a grid shape across the desert and partially buried.
The checkerboards have remarkable, though poorly understood, properties - acting as a windbreak and helping to keep dunes in place, allowing topsoil to form. When a sufficient amount of soil has been established, drought-resistant plants can be grown. However, a receding water table has led to recent degradation of vegetation and a decline in the checkerboards effectiveness.
"We can't just sit back and relax. We must become tireless tree planters so that others may rest in the shade," said Li to his colleagues when he first arrived in Shapotou in 1987.
"Upon our arrival, my colleagues were gnashing their teeth and wringing their hands," he recalled. "There was no toilet. There were rat holes all over our dorm. The only way to receive a radio signal was to climb up to the top of the dunes."
So isolated were they that they almost starved. "In the end, we survived by eating the seeds of elm trees," Li said.
One third of China's territory faces the threat of desertification, and almost 400 million people are subject to frequent sandstorms and strong winds. An old saying goes, "People in Gansu province eat three jin (1.5 kilograms) of dust every day."
The latest weapon in the war against erosion is a microbe that inhabits the soil above the straw checkerboards. It can lock up the soil by forming a crust, but the process is much too slowly, taking at least five years to grow.
Li's team has extracted similar microbes from algae and moss and cultured them in the lab. When sprayed on the sand, the crust grows much faster, and holds the soil "just like a carpet", Li said.
"This biotechnology protects local plants from invasive species. It helps defend the original desert ecosystem."
Shapotou now has more than 30 kinds of cultivated vegetation. Biodiversity is crucial to combating desertification, according to Li.
"The oldest vegetation has been here for a little over 60 years, while the youngest was planted 10 years ago," said Zhang Zhishan, deputy chief of the Shapotou research center. "Time has shown that we made the right choice of vegetation for this area."
The lessons learned at Shapotou have helped many other places, such as the Muus Desert in Shaanxi province; Horqin, China's largest sandy area; and Erdos in the Inner Mongolia autonomous region. Researchers from the Middle East and Africa have also been trained in Shapotou.
"Li's research is an important benchmark and all our data can be freely shared," Zhang said.